By Chris Cole

Malcolm struggled to open his eyes. An insurmountable tide of exhaustion battled his desire to be awake. He blinked hard, shaking his head to clear the cobwebs. He felt alert but mildly disorientated. It was a familiar feeling, the twilight zone between your last dream and the perils of the oncoming morning, typically punctuated by the fading echoes of the alarm clock — unsure of which day it was, or even where he might be. A melange of sensations and memories, inconsistent, and no way to tell which was real, which was now, which was merely remembered.
"Hello there," a familiar voice. Happy. There was a smile hiding in that voice, but tinged with...something else. Close by. Warm fingers closed around his.
With a final effort, he forced his eyes open, and struggled to focus on the face at his bedside. Katie, his eldest daughter. He smiled. She was beautiful, especially when she smiled. Always had been. He remembered her cranky expression as the midwife handed her to him. The mixture of excitement and fear on her first day of school. Riding her first bike, and, shortly afterward, her first trip to hospital for a broken bone. The time she'd stood there, tears of indignant teenage fury rolling down her cheeks as she screamed "I hate you!" and, not long afterward, the gentle sobs of love and apology against his shoulder as they clung to each other. Her brilliance at school and, later, university, becoming a teacher herself. Her passion for it, for life as a whole. His own tears of both joy and sadness the day he walked her down the aisle.
Something must have happened. They were in a hospital room. Had he had a heart attack? A stroke? Some sort of accident? Clearing his throat to ask, he stopped. A man had entered the room, smiling pleasantly, tucking a notepad back into a pocket of his white coat. Higgins. Dr Higgins. The name leapt to the front of Malcolm's mind like a slap across the face, and a torrent of realisation flooded in behind it.
His attention suddenly crystallised, he looked down at Katie's hand in his. Turned his hand over, and back. He looked up at his daughter, fear and inquiry burning in his eyes. She suppressed a giggle, or a sob, nodding quickly. "Yes," she said. "It's done. It's you. Do you remember?"
Yes. He remembered. "I need a mirror".
Higgins moved forward, talking hurriedly about the importance of taking things slowly at first, but Malcolm brushed his protests aside as he sat up, swinging his legs over the edge of the bed.
"I'm okay. Please..."
He stood, moving on unsteady feet to the sink, and for the longest moment, just stared. He blinked, touching his face.
"My god. It worked."
"Of course," Higgins was beaming. "We'll take you through some specific testing in a little while, but it's usually obvious right away to the client that things have gone as planned." He paused. "It's always a little...disorientating, but do you feel... yourself?"
Malcolm turned to face him, a cautious smile forming as he nodded, and then froze as he glanced into the corridor behind the doctor, standing framed by the doorway. Higgins' smile faltered, briefly perplexed by Malcolm's change in expression, before turning to follow his gaze, eyes widening in alarm.
"Oh... Oh! I see. Damn. No. Wait... please!" Higgins raised a hand plaintively. Malcolm was already sweeping past him, into the corridor. He had caught only a fleeting glimpse of the man being led past by a nurse, but it was enough. The pair had just disappeared into a room two doors down across the corridor as Malcolm emerged from his room. Higgins rested a hand lightly on his shoulder, was starting to say something, but he shrugged it off and turned to face the shorter man.
"No. I understand your concerns... and I don't care. Please don't bother trying to stop me."
The doctor's shoulders fell with a sigh, his eyes downcast as he nodded almost imperceptibly. Katie was on her feet, looking worried, about to speak. Malcolm stopped her with a gesture and smiled.
"It's all right, honey. I know what I'm doing. It's okay. Really."
Voices drifted from the room, most of them resolving to familiar faces in his mind's eye as he walked slowly to the door. A nurse appeared from within, stopped, gaping at him. He saw her gaze shift slightly, and Higgins' voice over his shoulder, waving her away.
Malcolm stepped into the doorway.
Everything stopped.
His brother, his younger daughter and her husband, a cousin, were all there. He didn't care. The man laying in the bed looked up at him, and their eyes locked. He could see the man's mind racing furiously behind those eyes. Those exquisitely familiar eyes. And then the moment of comprehension. A heartbeat, maybe two, and the man found his voice.
"Could everybody please pop out for a minute?"
Voices of protest erupted. Malcolm raised his own voice, kind but firm, his eyes never leaving the older man's.
"Please. Don't argue. Just do it. We need a few minutes."
Silence. Malcolm struggled to keep his breathing even, the other man staring back at him as his family quietly filed out of the room.
"We need to talk." The man in the bed nodded.
"Yes... We do." Malcolm closed the door gently behind him.
He remembered quite clearly now. And if he remembered, he knew the man laying in the bed remembered also. Malcolm knew this with certainty, because until quite recently they'd lived the exact same lives, or rather, life.
The online brochure had made it all sound so simple, an elegant solution to a problem that as yet, could not be effectively prevented. Cloning had been perfected, from a technical point of view, decades ago. The ethical wrangling had taken years longer. Tightly regulated, horrendously expensive, it was an answer to many of the medical dilemmas gene therapy and artificial tissue technology were yet to overcome. The imprinting or transference of neural network structure, that is learned experience, memories, personality, was an unexpected but rapidly explored and exploited incidental effect. The applications were protean.
Malcolm had been a well-heeled academic, with strong links to important players in private industry, when he was diagnosed with a form of early onset dementia. He was fifty years old. He was terrified. The decision was an easy one. The process was explained, consent undertaken while he was still sufficiently in command of his faculties to make such decisions. Which is how Malcolm knew the man in the bed knew what was happening; he was the one who had signed the papers authorising it. That was five years ago.
Except things hadn't quite gone to plan. These two men, these two versions of himself, were never meant to meet. The protocol was strict because the laws were even stricter. It was completely unacceptable to have more than one "copy" of a human being wandering the world simultaneously. Once the clone was fully functional, and information transfer successful, the original subject took a simple pill, and closed their eyes on this world for the last time. That was the agreement, the price of immortality. Accepted knowingly, willingly.
Malcolm sat down next to the bed.
"I suppose jokes about finally finding myself are a little lame at this point, eh?" the older man quipped. "This is all a bit...disconcerting."
Malcolm nodded. "I'm feeling a bit beside myself..."
A moment passed, and both men cracked identical grins, chuckling at themselves, each other. They spoke awhile. Discussions of philosophy, the ethics and morals of their predicament were too confusing for the older man. So they spoke with passion about their great loves, regrets, adventures, family. Things that mattered, that drew gales of laughter, as well as tears.
After several minutes, or an hour, or an eternity...who knew...both men were again quiet, and their gaze shifted from each other to the pill container sitting unobtrusively on the bedside trolley.
"Ah yes. I guess I must have forgotten to take my pills. I think that happens quite a lot these days." The old man smiled apologetically.
Malcolm looked deep into those oh so familiar eyes for one long, last time. "Here, let me sort them out for you."
Some time later, the door cracked open, and his family slipped cautiously back into the room. Malcolm looked up at them. He felt alert, but mildly disorientated. It was a familiar feeling, the twilight zone between your last dream, and the perils of the oncoming morning. Unsure of which day it was, or even where he might be. A melange of sensations and memories, and no way to tell which was real, which was now, which was merely remembered. He wasn't sure why he seemed to be in hospital, but his family had come to visit. The old man shifted in his bed and smiled up at them.

About The Author
Chris Cole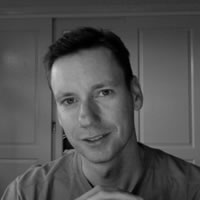 Chris is an enthusiastic devourer, and occasional hopeful creator, of compelling science fiction. An antipodean devotee of Douglas Adams, Terry Pratchett, Orson Scott Card, and crepes that have been cooked just right, he dodges marsupials en-route to work, and spends vast periods of time staring at the sky. In his spare time, he struggles to improve his disc golf handicap, and occasionally lends a hand in sorting out the sick and injured hairless apes of the world. He may or may not be far too familiar with 8-bit computer games from the 1980's.