By Mathew Nelson

I shiver, stumbling forward as the rain lashes at my clothes. I can't feel my nose, or my ears, or the tips of my fingers. I can barely see. Where the hell am I? The sky has grown eerily dark and I'm sure that the sun has now set behind the rain clouds. A brief fragment of light remains on the churning ocean. Violent waves crash against the rocks ahead.
Alone, and evidently quite lost, I am drawn like a moth to a peculiar light far off in the distance, and freezing, teeth clattering, soaked through with my boots squelching at every heavy step, I pursue it towards the sea. A flash of lightning reveals the unnatural structure reaching high into the clouds and drooping slightly over the sea, some kind of wooden spire laden with mould and seaweed. There is a lifelessness about this thing, a sense of death and decay that repels me. Thunder rolls from over the ocean and sinks deep into the earth. I shiver, and move forwards.
The tower groans painfully against the raging of the storm and I stare up at it, filled with dread and awe. There is no soundness to its structure, no logic beneath its unruly frame as pieces stick out and plunge back in again, doors open to nothing but a fifty-foot drop and stairs trail along the outside wall, some of which seem to lead to nowhere. But I'm frightened and alone.
I bang on the splintery front door and am surprised when it swings open. I step cautiously inside and the floorboards creak under my feet. It's warm and dry, except where I'm dripping on the floor. The air smells musty. A wood fire crackles across the room, my only source of light as I glance up to see a flight of stairs disappear into a looming shadow.
"Hello there," says a man I had not noticed. He is bald with a pale face and shallow eyes, and he sits in a lounge chair reading the paper. "We've been expecting you."
"You have?"
"Yes." The man licks his finger and turns the page. I notice the story on the front page: Local Church Burns Down: Community Mourns Death of Local Priest After Tragic Church Fire. I see flames raging over the cries of women and children, and I am suffocated as clouds of ash and smoke pour into my lungs. The man sets his paper aside. "I suppose you'll be wanting to talk to the man upstairs."
"Who?"
"You'll know which one. He's quite like me. Impossible to miss, I assure you."
Until now I had been under the assumption that there was only one man in the tower, but then I raise my eyes to dismal green lights flickering to life all along the stairway. Amidst the constant groaning wood comes new sounds, shuffling feet and deep, almost inhuman mumblings, as well as heavy breathing and something like swishing water.
I turn to the bald man. "I don't understand —"
"Ah, don't worry, he'll explain everything. Go on. Go on!"
With a sigh, I stroll past the fireplace and ascend the stairs. I can't remember where I came from or what I'm doing. I am floating higher and higher, immersed in subtle green, until I look to the right down a shadowy hallway with a stained rug down the middle. I step onto it and take a few paces, swearing that I could have heard gargling somewhere. When I turn back to the stairs I almost stumble to my death. They're gone, disappeared like they never even existed. I lean over and stare at the bald man's shiny head way below, and then back at the hallway, and then back at the non-existent stairs. "Oh…"
I try one of the greasy doorknobs but can't get it to open, so I move on. So many rooms, at least one of them has to be open. I'd have to break one down either way because there's no getting out of this hallway. I consider the door at the end, the one oozing with green slime, and I place my ear against it thinking I had heard a bubbling sound. I shrug, and slowly turn the knob. Better than nothing.
Immediately the gross odour of puss and decay spills from the room, and I hold my nose and shuffle inside, expecting to find myself in a swamp or to stumble upon the remains of a corpse. What I encounter instead is a creature beyond what my sane mind can comprehend, a foul… thing, and yet it is unmistakably alive. I can only describe it as a large shapeless blob with stubby arms, slick with gooey mucus. The thing turns at me and opens its black gaping mouth, wide enough to swallow me whole. I shut my eyes and scream that the thing isn't real. But its eyes, dark shallow eyes, are human.
The thing slowly bears down on me, grunting and gurgling, so I do what any sane man would do and I flee. But to where? I reach for the door before remembering that there is no way to escape from the hallway, so I scurry around the edge of the room — away from the monster — and make for the window.
The storm hits me full force as I climb onto a narrow ledge outside the room; the rain so sharp it seems to slice into my skin. Where do I go now? I glance up at the distant light so far above me, and I know that I can never reach it. I stare down into the dark abyss below me. I wonder…
How did I get here? What was I doing before I entered this abysmal tower? Since when were monsters like that real? I only occurs to me now that I am dreaming. So, what if I just… jump?

About The Author
Mathew Nelson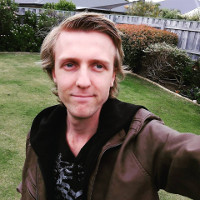 I am a Western Australian writer who recently completed my Creative Writing degree at Curtin University, which is a wonderful place to spend time and study.
I'm a passionate novelist and short story writer. My appetite for genre fiction spans all forms of media from novels to video games and branches beyond creative works and into research, reviews and theory.
I've been surrounded by fascinating stories my entire life, and as I've grown older my passion and curiosity has only gotten stronger. I grew up watching Star Wars, reading The Hobbit and The Lord of the Rings and playing video games like Ratchet & Clank.
In high school I was intrigued by science and mathematics, even though I wasn't very good at either, but I knew by that stage that I was a writer!
I started off small, working on cheesy fan-fictions for Star Wars and Assassin's Creed. Then I started writing novels and inventing my own stories, and I've been doing that ever since.