By Antoinette Rydyr

June awoke bright and early and turned to husband, Barry. She shook him gently but he couldn't be roused.
She held a mirror to his mouth to catch his breath. It was super slow. Eventually, the mirror gradually fogged.
June had been looking forward to catch-up day.
Not just a day off work, but a day free from obligation and responsibility. A day she didn't have to take daughter, Chloe, to school.
A day to relax, read or simply enjoy the solitude.
Today was extra special because June turned 31.
Born on the last stroke of the month of June, it had been a running joke in her family that she'd actually been born on June 31. So captivated by the idea, her parents named her June.
For as long as she could remember, June had an extra day to herself to do as she pleased while the rest of the world was slow.
She often took advantage by playing practical jokes. Harmless fun such as changing the furniture around, moving items, or filling the fridge with cakes — it was, after all, her birthday.
June rode her bicycle in the sunshine. Noticed a flock of geese cruise slowly by at altitude. The higher the object, the less it was affected by the slow. The world still spun around the sun but on the ground everything was reduced to an indiscernible slowness. Everything, except June.
That night June climbed into bed next to her husband and slept soundly. Tomorrow would bring her back to the grindstone of everyday life.
***
In the morning, June awoke. But something was wrong. She checked on her family and, to her horror, they were still in the slow.
No-one stirred inside the house. Nothing stirred outside the house.
June tried not to worry, rationalised it as a bonus day.
There was nothing to watch on TV. The same image was frozen on the screen. Although it had slightly changed since yesterday. Now there was a fuzzy double image where the scene was caught between frames.
She went for a bicycle ride in the sunshine, but couldn't enjoy it. A sense of unease niggled at her.
That night, June went to bed with trepidation. She hoped all would be normal the next day, but it wasn't. Panic set in.
June was stuck in a weird purgatory.
She didn't know how to kickstart the world again.
Maybe if she put everything back the way it was, the world would return to normal. She set about moving all the furniture back to its original position and made doubly, triply sure that every item was in its place. That night she went to bed with raised hope.
But the next day, June found herself alone again.
Day after day and no change. June was starting to wonder if she was actually dead and in her own private hell.
She felt uneasy sleeping in the bed next to her inanimate husband, so took to sleeping on the couch instead.
June passed each day like a zombie. Became listless. Couldn't be bothered washing. Often forgot to eat.
Nearly a year had dragged by. Dishevelled and bedraggled, June grew weary of existing and contemplated suicide.
***
Barry awoke to a scream and raced to their six-year-old.
The living room was a mess as if squatters had been camping there. In the midst of the detritus lay the lifeless body of a very old woman.

About The Author
Antoinette Rydyr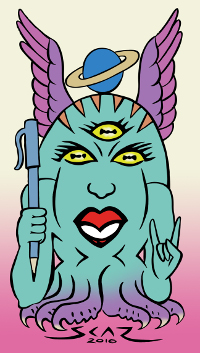 Antoinette Rydyr is an artist and writer working in the genres of science-fiction, fantasy and horror usually bent into a surrealist and satirical angle. She works with fellow creator, Steve Carter and together have produced graphic novels, award-winning screenplays and esoteric electronic music.
In 2018 their collaborative steampunk western novel, "Weird Wild West" parts one and two were published by Bizarro Pulp Press, USA, and part three will be published in 2019.
They have also published graphic novels including, "Savage Bitch", "Weird Worlds", "Bestiary of Monstruum", "Weird Sex Fantasy", and the celebratory resurrection of the infamous "Phantastique", ingloriously presented in full bloody colour!
More grotesque delights can be viewed on their website: <https://www.weirdwildart.com/> and their Amazon Author Page:
<https://www.amazon.com/Carter-Rydyr/e/B07DBYBBZT/ref=ntt_dp_epwbk_1>.