By Simon Brown

It's a long way from Uralba to Kyogle. Most people never heard of Uralba; when I say it's near Ballina they say, 'Isn't that under the sea now?' and then nod sympathetically because everyone understands how much was lost when sea moved in.
It's a long way, but I always make the journey from the start so I don't miss any of the seasonal workers.
They're travellers and travellers are readers. From Uralba by train through towns and villages where young workers board to get to the sugar plantations, and then down to Uralba on the edge of the Great Wash that came three hundred years ago. But that's history, and my tale only touches on history.
This tale's about the Optimist, as he called himself. A little fellow with almost no hair and brown skin and a big case who got on at Kyogle many years ago. He was from Ghinni Ghi, first off, but walked all the way to Kyogle to make the train. Long way for a little man. And he carried that case all the way; almost half his size, but I understand how business can drive a soul, and his business was in his case. As was his soul. Not that I knew that when I first saw him clamber on the carriage.
And it was a clamber. He climbed the steps likes they were the last rise on a mountain and stood just inside the doors as they closed behind him, steaming harder than the train. He was so hot, so tired, his glasses misted as he stood there, holding his case against his chest. He waited, almost losing his balance when the train lurched away from the platform, until his glasses cleared, and then he gazed down the aisle hoping there was a spare seat. There were a few, including one next to mine. I like my privacy in those moments I give myself, and hoped he would not see the free space, but there is something about me that reassures people on sight, which is good for business but bad for privacy, and sure as coughing means spots, he decided to claim the seat next to mine.
As he made himself comfortable, his case squeezed between his legs, I moved aside to make more room. He smiled thinly to show he noticed my consideration, then looked determinedly forward to show he wasn't nosey and would happily keep to himself. Except I saw it was not like him, the way he had to concentrate on not looking around, so I made the crossing and said, 'You just made it. The train waits for no one.'
'Truly,' he agreed. 'It's a long way from Ghinni Ghi, and to have missed the train at the very end of my walk would have been hard on me.'
'I'm from Uralba myself.'
'I've heard of that place. Near Ballina?'
'Alas, that's under water. Uralba's further up aways, but still close to the Great Wash.'
'Ghinni Ghi has swamp now,' he said to let me know he understood what it was to live by water. 'Summer's worst, with the muskatees and the shakee-shakees they bring. But in winter, when the Clean Winds come from the south, it's a better place.' He took a deep breath. 'Listen to me going on.' He stuck out a hand. 'I'm the Optimist.'
He saw me hesitate to take his hand and was about to withdraw it, but I reckon any man so willing and trusting to risk touching another's skin would be a friend on the long journey, so I extended my own. Our palms slid against each other and our friendship was made.
He happily lifted his case on to his knees and opened it to show me what was inside. Even in the poor light of the carriage I saw a hundred glittering pinpoints as rows and rows of wire-framed spectacles revealed themselves, their individual glasses as smooth and bright as the surface of Lake George on a cold, calm winter's morning.
'All readers,' he said, and pointed at each row as he continued, 'One quarter magnification, half, double and fours. All pride aside, my friend, there are none better made in these lands, or further afield I dare say.' He chose one pair of spectacles and held them up for me to inspect more closely.
I could see right away it was an example of great workmanship. I pulled my own pair out of my coat pocket, a rickety, slightly askew and wood-framed set, and compared the two.
'Ah, a reader like myself,' he said, not able to hide his anticipation of a possible sale. 'What strength are yours?'
'Double,' I said.
He swapped the spectacles he had given me with another pair. 'Try them on. Compare them with your own.' Before I could reach into my own case for a book to scan, he pulled one out from a sleeve in the lid of his case, a slim volume, rough-cut. 'My constant companion,' he said, patting the cover, and offered it to me.
Now I respect many things in life. Good people with good hearts and good intentions, a good meal and a good morning with a bright sun, good health, and beauty—which God placed on Earth to brighten our dark lives. And books. All books, old or new, large or small, poetry or prose. This is why I am a Bookfinder, to bring these gems of civilisation to as many people as I can, and only for a modest profit. My new-found friend went up in my esteem.
I slipped on my spectacles first, opened the book the Optimist had given me, and scanned the page. I then put on his spectacles and immediately found them much better than my own. The words seemed to lift from the paper.
'Well, friend?' he asked.
'Marvellous,' I told him.
His little face beamed up at mine. 'There are none better made north of Drowned Sydney.'
'They are excellent. How much?'
The Optimist said a little breathlessly, as if it was a secret, 'Well, since we have touched skin, and if you throw in your old pair—I can always find a use for the glass—then a dollar will do. A dollar-coin, that is, not paper.'
'Easily done,' I said, and handed him my old pair and a one-dollar coin from my purse. I then returned to reading the book he had given me. I wanted to know if I recognised the poem. The words were so strange to me I had to speak them as I read.
So, when my Mistris shal be seene
In form and Beauty of her mind,
By Vertue first, then Choyce a Queen,
Tell me, if she were not design'd
Th'Eclypse and Glory of her kind.1
'That was well done,' the Optimist said. 'You know the poem?'
'I have never seen it before,' I admitted. 'Where did you get it from?'
'The swamp around Ghinni Ghi, fed by the overflow from Toonumbar Dam. A loose page, badly decayed. There were more verses, but I managed to save only two that day.' He lifted the corner of the leaf with the tip of one finger, and I saw that it was part of a page pasted onto a blank sheet. 'I find them all over the place. By the road, wind-blown. In fields. The last remnants of tattered books dug up in the garden. The swamp, old houses, in the woods and by the side of crumbling highways. If I find something that takes my fancy I put it in this book. It is my constant companion.'
'And what exactly take your fancy?'
The Optimist blushed. 'Love poetry,' he said lowly. He turned the page for me. 'This is the other I found that day.'
Tell me no more how fair she is,
I have no minde to hear
The story of that distant bliss
I never shall come near:
By sad experience I have found
That her perfection is my wound.2
'Wonderful,' I said, a little breathless.
'And what is it you do, friend?' the Optimist asked.
'I am a Bookfinder,' I said. 'I buy books from those who no longer need them and sell them on, sometimes to the new colleges and libraries springing up in towns all along the railway.'
'Well, this is not a true book, of course,' he said, a note of caution in his voice. 'Just loose pages pasted between make-do covers … '
'Of course,' I said, and firmly handed him the volume to show I did not covet it. 'This is your personal quest, and a noble one.'
He put the book inside his coat pocket. 'We are allies you know, as well as friends.'
'How is that?'
'You sell and buy books to travellers and I sell the spectacles that let them read.'
'Very true. And now that we have pulled away from Kyogle, it is time to work. Perhaps we should proceed together?'
The Optimist readily agreed. We got up, each with our case, and walked to the last carriage to start. It is here—furthest away from the smokestack—which has the most expensive seats and where the best business is always carried out. On some journeys I have sold my stock—or completely depleted my float buying new stock—by the time I have trawled the last carriage.
On this occasion business was not so brisk, but rewarding enough. One fellow tried to sell me his copy of The Lord of the Rings. I explained it was as common as plague and not worth my effort. Another offered me a ratty copy of The Common Hymn Book Facsimile, 2105 edition, with commentary by the Archbishop of Melbourne; I gave him two dollars for it.
The Optimist sold half his stock by the time we reached the end of the second last carriage, and I had sold most of my books and bought a few that would sell well to the school libraries in Lismore.
It was hard work, dealing and shenaggling in a moving train, keeping balance and good sense. By the time we reached our seats, in the middle carriage, we paused for a rest. I ate some jerky and stared out the window as we passed woods of cycads and ferns and valleys filled with rainforest. I heard that an elephant had been seen in the Riverina, although I allow that's storytelling. How would it cross the oceans? Australia is green again, I told myself, and that's all that counts.
I glanced at my companion and saw him reading from his book. He did not need spectacles himself, but was a late learner: he used his finger to follow the words and murmured them quietly as he read.
'Love! You love me—your eyes have looked through death at mine,' he said. The words were a whisper now, as if he was speaking to someone whose head leaned against his. 'You have tempted a grave too much …'3
His words faltered and he looked up briefly. I saw a single tear wind down one cheek.
'Why do you read love poetry?' I asked gently.
'For what I do not have,' he said, his voice empty.
'You have lost a wife? A lover?'
He shook his head slowly. 'I have never had a wife or lover,' he said.
'Ah,' I said, feeling I had trespassed. There are few matters under heaven I am afraid to discuss—since discussion leads to knowledge—but love is one of them; what one loves another may hate, and the pain from love lost or love denied is too great for comfort. At least, any comfort I can give.
But the Optimist drew down a deep breath and said very quickly, 'All my life I have dreamed of having someone to love, and someone who would love me in turn. Of someone to talk to, of someone to make love to, of someone to wait for at day's end. Just someone to lay down next to when the Clean Winds blow up from the south. Just. Someone.' He sighed deeply. 'No one has ever looked at me or talked at me beyond necessity. So what I have instead is my book and inside, pasted as carefully as I may, those scraps of other people's love that I stumble across in my travels.'
'Well,' I said uncertainly, 'better that than have them lost forever.'
He looked at me with an expression that let me know I had missed the point of his endeavour, but at the same time that he was curiously thankful for my attempt. 'Yes, that is how I see it,' he lied. He carefully put the book back in his pocket and said, 'Well, enough rest. We reach Nimbin soon, and some passengers will leave us there. Let us catch them before they fly.'
We tried hard the next hour, but neither of us did much trade. We found our seats again as we pulled into Nimbin, afraid we would lose them otherwise, and waited to see how many new travellers boarded.
The station platform was crowded with people, most seasonal workers, heading east to find work in the plantations. It was August, and the sugarcane fields would need burning soon, and then the harvest would start. Great billowing black clouds would cover the coast for a month or more, stretching from Coolangatta to Coffs Harbour. More, Nimbin was a wealthier town than Kyogle, and the prospect for good trade commensurately higher. The Optimist and I glanced at each other and shared a grin.
The time between Nimbin and Lismore went quicker than a roo chased by a dog; only three days, because there was no downpour to wet the rails. Half a day before we reached Lismore I got caught dickering with one customer about a portfolio of old prints he wanted to sell way above a decent price, and the Optimist pulled ahead. By the time we met up again in our usual seats I could see he had something on his mind.
'I'm thinking to myself that I might get off at Lismore,' he said quietly. 'I've sold most of my stock and must return to Ghinni Ghi.'
'Well, if you got on at Kyogle you've paid your way to Uralba and back, and the train will turn around as soon as it changes,' I said. I had learned to value his companionship in the four days we'd known each other and didn't want to lose him so quickly. 'And you're riding in comfort instead of spending hard-earned coin at a boarding house.'
'Yes, that's true,' he agreed, but without much conviction. 'Still, I'll try Lismore.'
'What's at Lismore, then?'
'I sold a pair of spectacles a woman who had been at Lismore a fortnight since, and said there was great excitement there about the old university.'
'Mostly under water now,' I said.
'Yes, but she told me they'd finished constructing a canal linking the university and the town.'
'Won't stop the flooding,' I assured him.

'Yes, yes, but that's not the point,' he said a little testily. 'The canal has drained water from several fields and exposed some old university warehouses—archives by all accounts. All ruined by water, of course, but she said many interesting things can be found there. Old books in the mud, for example. No good for your business, of course; I'm sure that any books will be in an appalling state.'
I guessed where he was heading. 'But there will be a few pages that can be salvaged.'
'It's all I need,' he said quietly, more to himself than me.
'These uncovered warehouses are within the town's borders?'
'Just outside, but no more than an hour's walk.'
'Can you afford protection?'
'I am a single, harmless man. No one could think I wanted to take land from a commune, or food from a commune's children.'
'They may claim the warehouses for their sole plunder,' I pointed out. 'There is very little else for them to trade.'
'Loose pages. That's all I seek. Love poems.'
I let it lay. Time would help him reflect on his decision. It was a few hours yet to Lismore station. A world of time.
The discussion over, he retrieved his scrapbook and allowed me to read beside over his shoulder.
There were sweet poems that made me think of all the women I had loved and who had loved me, and for the briefest moment I understood what it would mean to be without love, to feel a hollow so deep within you that only poetry could shine a light to its end.
I let the Optimist be, then, and kept to myself. The poems he collected may have belonged to others once, but now they were his and his alone, as if his true love—the true love he had never owned—had penned them for his eyes only. I had no right to read over his shoulder, no right to read these letters which gave him the smallest but most necessary comfort.
With that moment of understanding, too, I realised the Optimist would risk leaving the train at Lismore, would risk searching the fields around the warehouses, would risk his own life to find more of his letters. I envied him, I think, the ability to surrender everything for love. Perhaps such devotion can only belong to someone for whom love was an unrealised ideal, but it seemed perfect to me in its purity.
So I let him read, and when he was ready for conversation I gladly took him up. He never talked about himself, as such, only his work and his poetry, as if he only existed in his own mind by those things that reflected him.
And so it came to pass he left the train at Lismore. He planned to rejoin this very train on its return trip up the line, so left his almost empty case with me to look after for him. And because he knew he was going into danger, he also left me his book.
I have it still, all these years later, and occasionally open it to read one or two poems, but it is painful for me. I trust the Optimist is still alive, perhaps still searching for more poems, because it is wrong that so much hope in the world should be extinguished, although as time passes it seems less likely. Still, I look for him every time the train pulls up at Lismore, half-expecting the warm little man to clamber onto the train and sit down by my side and show me what he has found, and then I can give him back his book and the great weight of its care will leave me.
In all the time I have had the book I have pasted nothing into it except my usual bookplate in the front to mark it, however temporarily, as mine in case I misplace it, and which reads simply 'I chose my fate'. I pray that when my time comes I choose it as bravely as the Optimist, and for so worthwhile a cause.
---
Wotton, Sir Henry 'On his Mistris, the Queen of Bohemia' (17th century)
King, Henry 'Sonnet' (17th century)
Rosenberg, Isaac 'Girl to Soldier on Leave' (WWI)

About The Author
Simon Brown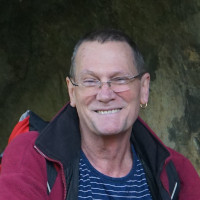 Simon Brown has been writing for nearly fifty years. His novels and short stories have been published in Australia, the US, Russia, Japan, Poland and the UK.
He currently lives in Johannesburg, South Africa, but his true home is on the south coast of New South Wales, where he will return one day and never move again.
His website, Strange Borders, can be found at <https://simonbrown.co/>.