By Rex Caleval

"All right, let's get started. I'm Dr. Robert Hirsch. For those of you just being brought in on this, here are the basics," said the man at the head of the conference table. "Some time ago, astronomers observed what appeared to be a large extrasolar asteroid approaching our system. When we calculated its trajectory, we found that it would pass quite close to some of the new moons of Saturn discovered by the Cassini project years ago. Doctor Susan Lassiter, here," he continued, gesturing to a woman sitting to his left, "came up with a plan to divert another mission we'd been about to launch. We could get data on several objects in the asteroid belt on the outward leg, then try to land a probe on this object, like the Huygens lander in the Cassini mission did on Titan. The landing would be difficult, but if we could pull it off we'd get valuable information on the extrasolar object, and our probe could hitch a ride on it and provide data on these new moons as it went past. We decided to try it."
"That mission launch was briefly in the news several years ago, and it's all we've released so far. We're here to discuss what we haven't told anyone yet." Hirsch turned on the screen at the front of the room. "We've received photos taken by the Lassiter probe as it approached the asteroid during its landing attempt." He slowly clicked through several images, each getting progressively more detailed as they got closer to the asteroid. Everyone sat forward, watching intently. Then there were several startled gasps.
"Are those what they look like?" asked one man. "Those can't be natural, can they?"
"Exactly. What we have here appears to be the first definitive proof of extraterrestrial intelligence. Those look like crates of some kind, clearly not of the same material as the asteroid, and seemingly placed there by someone. We've been able to confirm this. Our probe made it down and kept sending data, although it had a rough landing. Here are the images from the surface." Hirsch clicked through several more pictures of what looked remarkably like shipping containers, albeit very sturdy ones. "We haven't found anything else, just a great number of these crates, if that is in fact what they are."
"Have we been able to find out where this object came from?" asked a woman at the end of the table. "Where is this other intelligence? Do we know?"
"We think Alpha Centauri, but we can't be sure. If we move back to the third and fourth pictures," Hirsch said, "at the far left appears to be a set of tubes of some kind. We see another set on the right in pictures seven and eight. Doctor Lassiter thought that they might be a propulsion system of some kind, and we've just gotten data that appears to confirm that. The object has changed course, just a small amount, but definitely an artificially induced change of direction. Because it can do this, we can't know for certain where it originated, but Alpha Centauri remains most likely."
There were more startled exclamations. "It turned? It must be under control of some kind," said a man in a military uniform. "Is it coming here? Is that what this is about?"
"No, Colonel MacNamara, it's not coming here, although it will pass closer now than it was going to initially. It appears to be manoeuvering to ensure that it goes directly into the Sun."
"What? Why would it do that? Could it be some kind of attack?" the Colonel replied. "Why weren't we informed about this earlier?"
"We discovered the change in trajectory less than a day ago. It's taken that long to get this meeting together," answered Hirsch. "Dr. Lassiter has a theory which we believe best fits the facts. She'll take over now."
The woman on his left rose. "Thanks, Dr. Hirsch. The instrument packages on the probe were able to detect many things about those crates. Some of the contents we don't recognise, but there are many we do know. A lot of radioactive waste, like we get from our own nuclear reactors. Chemical and biological agents. Heavy metal sludges like we see in industrial waste. Without knowing more about whoever sent it, we can't be sure what it would all be to them, but to us, it's almost entirely made up of the most toxic and hazardous waste byproducts we know."
"What will happen when that hits the Sun?" asked the Colonel. "Will it be dangerous?"
"It shouldn't be. In fact, the Sun would be an ideal disposal system. It seems that someone is using our star as their garbage incinerator."
Everyone was stunned for a moment. "Why not just use their own star?" someone asked.
"Nobody wants a dump near them on Earth. Maybe they're the same. A little distance, just in case. They probably don't know anyone is here. After all, we didn't know that they were there."
"Well, that's deflating," said MacNamara. "Our first contact is as a garbage dump."
"That depends on how we choose to look at it," replied Lassiter. "It seems likely that there will be more asteroids. We use a dump site more than once. They probably do too. We could at least add our own hazardous wastes to theirs for disposal. All we'd have to do is hit an asteroid with a launch as it went by, when one is close enough. But I think a better opportunity is in those crate contents we don't recognise. Who knows what new elements, materials or isotopes we could find? Let's go get them!"
MacNamara looked thoughtful. "I wouldn't mind a look at that propulsion system, either. And it must have some kind of sensor and control system, to know when to turn."
"Exactly, Colonel. There's a bright side here." Lassiter smiled. "It's time to expand the old saying. One species' trash…"

About The Author
Rex Caleval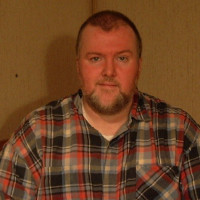 Rex Caleval lives in Regina, Saskatchewan, Canada, where he spent twenty years as an air-traffic controller.
Always an avid reader with story ideas popping into his head, he decided to try writing a few.
He's been pleased to find that people seem to like them. His stories have appeared in Every Day Fiction and Antipodean SF.