By Imogen Cassidy

The find was good, he was certain of it. If he was lucky it would be enough to cover the repayments to Bernadette, and even get some of those more urgent repairs done.
The only problem was the other ship that was already there.
They hadn't seen him yet, and he hadn't changed course, frozen into indecision by the hopes he'd been harboring being dashed.
Drift brought him closer and closer to the ship and he could see the tether tying the pilot to his scrapyard hulk and anchoring him to the asteroid that held the wealth that Ethan coveted.

His ship could be on course to fly right through that cord, he realised. He would only have to make the slightest of adjustments to make sure that the sole finder on that asteroid was severed from the line that gave them life. Drift would do it, he told himself. An accident in calculations. Life was so fragile, really.
One single miscalculation could destroy it.
His hands were on the controls before he had even finished the thought. In the back of his mind something was screaming, but he shoved it down to lie foetid with the fears that came to anyone who had worked any length of time in deep space. Solitude. Confinement. Death.
He couldn't let himself think on the fact that he was about to visit on someone his own greatest fear. It was worse, far worse than letting the ship fail, than being indebted to his sister for the rest of his life — for what would that life be that was so terrible? Safe and comfortable?
A choice, then.
He flicked on the comm. "This is Ethan Guthrie, approaching your position on course four eight two, can I render any assistance?"
He could hear the breath of the other pilot in his ears. Don't think on it. Don't think about what is going to happen. Just act. "Copy that, Guthrie," a deep voice, not young. Weathered with age and experience. "No assistance necessary. You can change course."
There was a lot of hostility in that reply. Ships didn't come upon each other by accident in the belt. Not when there was this much space surrounding them. Sure, two ships could get a reading on a promising asteroid and would end up going for the same find, but to actually arrive so closely together was almost unheard of. A stroke of luck or fate.
It was easy enough to make it look like he'd changed course, altered enough that a hard thrust at the right moment would give him the momentum he needed.
"Guthrie, you're cutting it awfully fine."
"Sorry. Low on fuel this trip. If I bank any harder I won't make it back."
A perfectly legitimate excuse.
"How long have you been out this run?" the other pilot asked.
"Long enough to wish I had a better stock of synths," Ethan said, trying for a chuckle. He was charming, on the comm, and the sheen of sweat on his upper lip was something only Ethan could feel.

"I know how that is," the pilot said. Grudging amusement in that tone. The grunt of breath as the pilot shifted something — moved equipment, maybe. Checked his anchorage. Even tethered to the ship, as he was, there was a chance he could be thrown by an unexpected movement and end up drifting, having to do the long haul hand over hand up his lifeline to get back to his ship and then start all over again.

He could see, despite the importance of his task, that the pilot periodically checked Ethan's position, hunched and defensive over his equipment. Tense. That tension, that fear wouldn't lessen until Ethan was out of range, and Ethan knew it.

He turned the comm off before he hit the thrusters.
There wasn't even a bump as his ship sailed through the line. Proximity alarms were going off — of course they were — but he'd timed it well. The course correction had come too late for the pilot on the asteroid to do anything but watch in horror.

There was no sound in the vacuum of space save the sounds you made yourself. He could hear his own breath echoing back to him in the confines of his suit, the rub of fabric against skin as he cut the body free. He was quite dead — the time Ethan had spent cataloguing the other ship had been more than enough for the suit's limited oxygen supply to run dry. It wasn't a man any longer, just a piece of space debris, the smallest of small specs in a vast unending darkness.
He shoved it towards the biggest gap in the belt he could see. It would float for… days. Years. Decades if it didn't collide with an asteroid before then. Perhaps he — it would be pulverised by those rocks, perhaps it would simply be nudged in a different direction altogether, until it drifted close to a strong enough gravity well. The Sun, maybe. Mars. In a hundred years, maybe two, some other miner, some other salvager might find a body, and know that it had met its end by the hands of another human.
Ethan would be dead by then, of course.
He could almost pretend that he was cataloguing a regular find. Not unheard of, to find a drifter out here. Unusual enough that he might have to stretch things out — use the supplies rather than sell them, break down the ship and use the parts to upgrade his own.
Even so, there was enough to pay his debt. He was free.
He could almost ignore how much his hands shook on the controls as he programmed his course home.

About The Author
Imogen Cassidy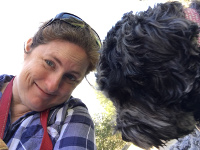 Imogen Cassidy is a Sydney based speculative fiction author who divides her time between writing, podcasting and parenting.
Her work has appeared in Andromeda Spaceways Inflight Magazine, The Colored Lens and Aurealis.