By Nick Petrou

The extradimensional spaceship sat in the blue sky over Perth city, unfolding and refolding and echoing sunbeams like a prismatic disco ball, while Steve sat on his roof, flipping it off.
He sculled the rest of his Emu Export, crushed the can, and nodded to his best mate Po, who reached a gloved hand into their esky and passed him another beer. Fold-out camping chairs protected their asses from the sunbaked roof, and they sucked down cigarettes and played Frogstomp from Steve's iPhone speakers and looked out over their city, which, like a thousand other cities around the world, was welcoming the Visitors with open arms.
The river and the crowded waterfront behind it wobbled in the December heat, which stunk of eucalyptus and sunblock. Million-dollar yachts and corroded tinnies fought for space closer to the foreshore and out of the westerly which blasted through the fat pillars of the Narrows Bridge. Boat motors and news choppers fought to outproduce the other in decibels, the latter pestering the spaceship like flies on roadkill, just as they had for the past two months.
Steve swatted cigarette ash from his boardshorts and said, "Fucken aliens. You wanna come to Australia, you gotta fit into Australian culture. Simple as that. Who do they think they are — coming here and telling us how to live our lives and shit? It's a bloody outrage."
Po flicked the manual ventilation switch behind his left ear, sighed with relief. "Well, they are steering us clear of environmental disaster and all that."
Steve shook his head in disappointment, mullet tickling the crayfish-red skin between his shoulder blades. "You sound just like one of the do-gooders, mate. You wanna live with a bloody stingray, you're gonna have to find a place of your own. None of that under my roof." He reached down and slapped the sweltering clay tiles, flicked his cigarette butt into the pool deflating in his neighbour's backyard.
Po pretended to clear his throat. "How do you know you wouldn't get along? I bet if you sat down and had a beer with one——"
"Yeah, no worries, mate. I'll just crack a coldie with fucken E.T."
When Steve was done laughing at his own joke, Po said, "Serious but, you wouldn't sink beers and rip cones with an alien... from outer space? You're always going on about that time in Bali when we met those blokes from Iran who were, like you said, 'fully on point with our banter.'"
"Yeah, old mate and his mate," said Steve.
"Yeah," said Po, cracking another Export. "What if it's like that with the Visitors?"
Steve crossed his arms and stared thoughtfully at the spaceship looming over the BHP tower. A fly walked into his nose. When it came back out, he caught it in his lips and spat it down the front of his singlet, bringing himself back into the moment. "I dunno. They're pretty gross but. Flaps and gills and shit."
Po's suit whirred, cycling liquid ammonia at twice his resting rate. His cheeks would have gone red, were there any blood in them. He said, "You like stingrays. You said so when we went up north."
Steve looked at Po, who kept avoiding his eyes. Steve uncrossed his arms, took his pack of Winnie Blues from the mesh cupholder in his chair, and stuck his last cigarette between his friend's lips. "You oright, bro?"
Po lifted a yellow BIC lighter to the cigarette, pulled the smoke into the artificial vacuum in his suit. When it was halfway to the butt, he said, "There's a reason most people are gettin along with 'em, you know. They say they spent a thousand of our years studying us."
"Who fucken says?"
"I dunno. Scientists." Po shook his head, continued, "Yeah, they say they've been here way longer than a coupla months. Twenty, thirty years, they reckon."
Steve scoffed, went for a ciggie, tossed the empty pack off the roof. "Don't get me started on that 'Illuminati lizard people' crap."
"Nah, not like that, bro," said Po. "They're not evil."
"Then what are they doing here, bro? What do they want? No one does shit for nothing."
Offering the half-finished cigarette to Steve, Po said, "Maybe they just wanna do this."
Steve took it, drew deep, grinned. "What, sit on a roof at eleven AM on a Wednesday and sink piss?"
Po took two more cans of Export from the esky, lobbed one at Steve. They hooked their fingernails under the pull rings, but before they could crack them open, Steve recoiled as if he'd been watching a cop movie and just figured out who the murderer was. He snapped his eyes to Po's and almost dropped his beer. A long second later, he scratched his temple and blinked the thought away.
"Maybe it wouldn't be so bad," he said, raising the red-and-white can to his best mate.
Po's suit made a subsonic whir as it slowed to match his decelerating heart.
Their Exports met, hissed as they cracked them in the hot December air.

About the Author
Nick Petrou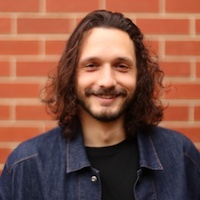 Nick works as a freelance writer out of Perth, Western Australia, where he likes to read unsettling fiction and complain about the sun.
His short fiction is forthcoming in two anthologies by Black Hare Press.
You can find out everything there is to know about him (and more) at <nspetrou.com>.