By Wendy Campbell

The signals started as jumbled words in different languages, mixed with strange pictures. They came from hundreds of light years away and were getting closer. Who was sending them, what did they mean?
Nora Whitman, Code Breaker and NASA Scientist, joined the experts studying the signals.
"What's the latest, Nora?"
Ben Thomas, leader of the team meeting asked.
"We've translated the words to English and added the pictures. It seems to make sense."
"Are they friendly?"
"I think they need help."
Nora felt the familiar sick feeling. Thrilled that, finally, here was proof that Earth was not alone in having living, thinking life, along with dread that this contact could be dangerous. Images from sci-fi stories flashed through her mind — visions of creatures determined to destroy the planet or take over. Were there any that had positive outcomes?

The team — scientists, astronomers, language experts, interpreters and code-breakers — read the message.
Humans please help us. Our planet dying. We need move another planet. Earth good for us. We help with technology – we more advanced. We live with little water. We can live with you in places you call deserts. We arrive in eight months. We beg you, please help us live. We mean no harm. Mesoputians.
Nora hoped that interpretation of the pictures had meant, "We mean no harm". They looked like smiling faces, waving arms — nothing sinister.
"We must prepare," Ben announced. "We don't know anything about them. Our signals will probably take months to reach them. Hopefully, they're not going to goddamn attack us. Let's brainstorm — firstly, a UN Meeting tomorrow..."
Six months later the Mesoputians replied. Nora was one of the first to see video images of the aliens. Elegant was the first word to enter her head when the first images appeared. Human-like, creamy faces were touched by a delicate peach blush, emphasising high cheekbones and enormous purple eyes.
Dialogue began. Questions were answered.
Meepak, the Mesoputian leader, explained, "Nora, own food supply is with us, half a million Hakkin. We breed them on Earth." Video showed large, hairy six-footed creatures crammed into cargo holds of spaceships.
Humans prepared for the aliens' arrival.
On Landing Day, in the Sahara Desert, the strangely beautiful creatures walked out of the spaceships.
"Welcome to Earth."
"Thank you. We grateful you helped us."
Six months later Nora flew to the new kingdom of Mesoputia for a settlement meeting. Thankfully, all seemed to be going well. She looked down from the aircraft at fields where a few hundred Hakkin grazed on cactus plants and noticed new enormous sheds. The rest of the Hakkin must be in those.
The human delegates sat at the huge oval table with Mesoputians as the meeting proceeded.
"Extra agenda item," Meepak said. "Sad news, the Hakkin dying."
"Ooh?" the humans murmured. Nora and Ben exchanged concerned looks.
"Good news."
Faces showed relief.
"Research shows good alternative. Scientific name Homo Sapiens."
Purple saliva ran down the Mesoputians' chins as bars slammed down on all the exits.

About The Author
Wendy Campbell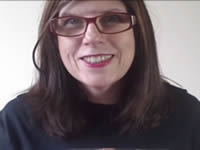 Wendy Campbell fits in writing with her current work as an ESL Teacher for adults. Her previouswork has included primary school teaching, child care and private tutoring. She has been having a go at writing a novel for the last few years — still in progress.
Wendy's other interests include painting, drawing and other craft work. She has an interest in creating animations, many of which are on herYouTube channel — Sashkatia.