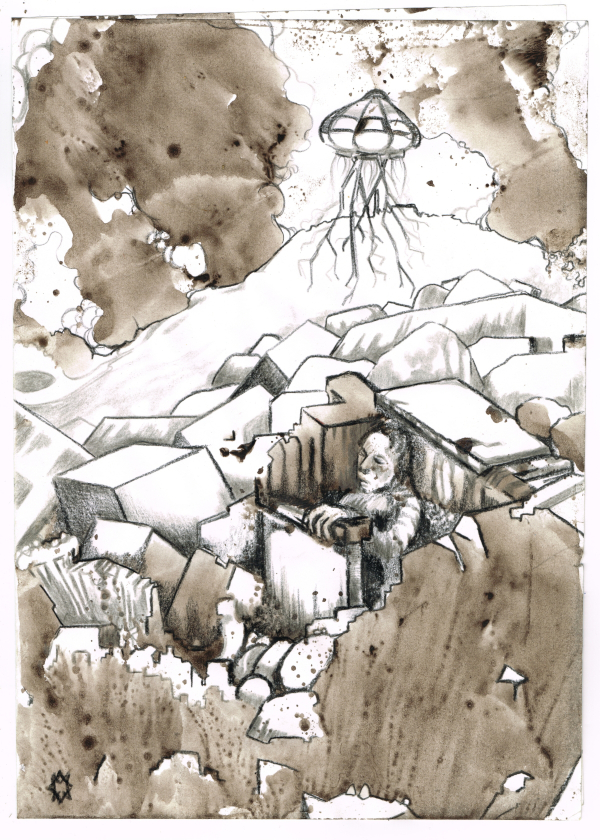 ---
By Trent Jamieson

Slow turned the Engine of war and I watched it pass over me, twice, then thrice. It rushed and rolled through the smoke-knotted sky seeking out cover and burning it away, and it was coming closer to my pit, and my roof, which wasn't much more than clay and timber.

It was a horrible time for living, but you get what you get, and we had now.
Whisp made whisperings in my ear. 'This is not good.'
'No, and settle,' I said. 'We need keep our wits about us.'
Whisp halted, sat shining by my ear. 'I am all wit!'
'I know, and I know your histories and that — I was there through all that nonsense — made of the ship-mind, sworn to be an aid. Well, be an aid, not a doomsayer, there's dooms enough in that tangled blazing sky.'
Whisp said nothing, and we watched the great Engine above turn and burn. It had been following us all along the curve, and we had reached this hidey hole a smidge before them.
Finally, Whisp said: you're still alive, aren't you?
'Yes, I'll give you that.'
Not for long though.
Fire rushed along the earth, driven hard by those engines, and everything was noise and violence.
'Look,' Whisp said, and flitted left and deeper into cover, and I saw what I had missed, a door, a hatch more like it. Deeper safeties perhaps, down in the less-combustibles.
Best take it, I thought. No other options were presenting themselves. So, I leant into that door, and it gave admission, and we tumbled, well, I did, and Whisp drifted down. I landed, winded, I held my stomach, and above us the earth shuddered, and there was a dropping of the ceiling and a sudden dark except for Whisp's tenuous and flitting light.
'Nothing broken?' Whisp asked.
'Just dignity,' I said sourly.
'Best to lose that if you want to survive.'
And I thought for a moment how low we were, how far we had fallen, and none of it by anything but ill luck and foul winds blowing. Both of us had been of ship, and me at its command, and then here we were on the curve, a station circling stars. Just a simple bit of salvage, turned more complex, turned quite thorny. Our ship destroyed by a woken, furious Engine, and me and Whisp running till here: till this hole.
I couldn't help it. I laughed.
'Best not to lose your mind though,' Whisp said.
I'd have laughed again, but for the sense, the sudden knowing that something else was here with us, and I knew at once that it weren't less predatory than any Engine.
I'd my sword out and I was swinging.
'I've mastery of killing,' I shouted into that dark. 'Come at me quick, and a clean death's yours.'
Well, I've no idea if it understood, but it rushed me then, and I swung out, missed it, but Whisp turned to a flare, and I saw the creature then, and it was blinded, somewhat, and I weren't, so I sliced its throat right open.
'What's a man doing down in here?'
'Some things nest in the dark,' Whisp said. 'Men were known to do that, nest and wait: they've lean and patient appetites.'
'Well, it bloodied my sword good enough. Shall we roast it?'
Whisp dimmed its light a little. 'Won't do much harm, their poisons are thin, and you need your strength.'
Wasn't that great eating, but I'd been hungry, and there was plenty to burn in that dark space, and when I was full, I slept a little, then pulled myself back up and out that hatch.
The Engines had long ago passed over, and my cover was well-charred but cooling, and I looked down-curve.

'You think there's ships on this old structure?'
'There's ships,' Whisp said with certitude, as though the winds were shifting. 'And I can find them, and I'm possessed of mind enough to run them too.'
Up-curve that Engine burned and hunted, but it had lost us good and proper, and a ship seemed in the offing, so not such a horrible time for living.
'Best lead the way,' I said, and we put that hatch behind us, and the possibility of the stars again hung before us like a dream and like a promise.

Sweet as the real thing proper: sweeter even, don't you think?

About The Author
Trent Jamieson
Trent Jamieson is the Brisbane based author of the Death Works series, the Nightbound Land Duology, and the multi-award winning novel Day Boy.
He is currently finishing a host of new projects, and starting on the greatest adventure of all: fatherhood.