By Lynda Young

Jess lost her job. That small, life-changing event came as no surprise. Not because jobs were harder to hold onto than youth and good health. Or because the world was easing into its last stop at the end of the line. No, the reason it came as no surprise was because if anything could go wrong, it would.
Simple as that.
Such was the way Jess lived her life. Not with pessimism, but with caution. Yet no matter how much care a person took, some forces were unavoidable. She might as well have been trapped by a chain-wire cage. From within, she could trace her immutable course from link to link to link.
Jess lost her job because she'd been late.
Because she'd missed her bus.
Because she'd caught the heel of her shoe in a grate and was unable to wrestle the fool thing free.
Because she'd been distracted by a man in a café window.
Because he'd reminded her of someone she knew. A relative.

And that was outright strange.
All her relatives were gone. They'd moved away to where the news supposedly wasn't about terrible viruses, terrible weather, or terrible people. Or they'd died. Most of them had died. Those ones hadn't left soon enough. The world and what was left of its people had deemed they no longer belonged.

For someone who believed in Murphy's Law, Jess should've left the moment the troubles had started, but she hadn't. She'd stayed on for longer than most.

Because she cared about the city, its historic sidewalks, its fancy skyrises, its lush parks, even though they were cracked, empty or overgrown.
Because she was born there, grew up there, and remembered what they used to be like. The city was her home. Even with the hustle and bustle gone. She couldn't feel alone among the glass-faced monoliths scraping the skies. Loneliness crept in when she had to deal with people. It's what she loved about her job. No need to listen to people gabble on, no need for fake interactions, or demands for attention. As the city emptied, the better it had become.
At least, that's what she told herself.
Because she had a job and it made her feel safe.

When it became no longer safe, it was too late. It cost more than a body part to get out of the city. Those who remained would always remain, like ghosts who didn't know how to die.

As much as the vaulted ideal of a forsaken city might've been, Jess had lost her security. She needed to eat and that cost a whole lot more than before the change.
Jess didn't blame Murphy for her woes. She blamed the man in the window.
Gerry. The face of the man in the café window had reminded her of Cousin Gerry. A distant cousin. He was the one who owed her a new job.

Her old job had lasted five years. Barclay, her neighbour at the time, had given it to her.

Because he was sweet on her roommate. He'd hoped to see Tabitha more. Tabs already had a boyfriend.

The day Tabs made it clear to Barclay she wasn't interested and would never be interested even if they were the last human beings on the planet, was the day Jess thought she'd lose her job. She didn't. Barclay had forgotten Jess by that time. The data she punched in every day continued to get punched in. That's all he cared about. And Tabs. Despite the brutal rejection.
It was only when Jess failed to input the numbers that he noticed. Before then, Barclay had refused to look up and see what was happening to their world. The numbers had made him feel safe. Sanctuary in order. When a crack shattered his world, and the numbers didn't add up, he did the only thing a person of his limited capacity could do. He fired her.
Jobs were rarer than a smile. If she didn't get a new one, she wouldn't survive.
It took two days for Jess to build her courage to return to the café. The man who looked like Gerry still sat at the window. If he'd been there four years ago, he might've looked like he was eagerly waiting for a meal. Now he looked out of place. There was something not right about him. The veil of cheerlessness didn't drag on his features. The weight of futility didn't push down on his shoulders. Pessimism didn't sit beside him like an old friend.
With uncommon bravery, she pushed open the crooked door hanging from a single hinge, and crunched over broken glass on the floor. She stopped by his side and waited for him to respond to her presence.
An old-fashioned wind-up alarm clock sat on the table in front of him, complete with bells like ears on top. With chin in hands, he stared at the clock as if he were trying to unravel its mysteries.

Jess grew weary of waiting. 'You owe me a job.'

Tick, tick, tick. The sound was the beat of a drum in an empty amphitheatre, a metronome in a room without music, the pulse of a dying heart.

'I said —'
'A job. Yes, I heard.' He had Gerry's voice.

Of course, he couldn't be Gerry. Her cousin had passed away. Or vanished. Or diminished into the West. Or whatever euphemism suited the unanswerable question of whatever had happened to Gerry. The black sheep of the family who was doomed to find an ugly end. Or so Jess' grouch of an aunt had said fifteen years ago when Jess was in her early teens and Gerry was in his late twenties.

If this was Gerry, then he hadn't aged a day. His hair was still light copper, without a trace of grey and too bright for the drab world. With the look of having been recently trimmed, it sat on his head in as relaxed a state as the man himself. His clothes were clean too, without any holes or pulled threads. Just like new. The faint scent of soap carried her back to a rainforest that no longer existed.
She gasped.

She'd forgotten what clean had smelled like.
He continued to study the clock, unmoved by her gasp or her demand for a job.

Jess slid into the seat opposite him. The clock between them ticked, ticked, ticked.

'If you don't have a job for me,' she said, 'then I'll gladly accept a month's worth of food and supplies.' A month might've been exorbitant, but she hadn't asked much from the world. This was the least it could offer in return for her continued existence. The world, after all, needed people.
Tick, tick, tick.
'It's fascinating,' Not-Gerry said in Gerry's voice, 'the way the hands tick on, pushed by the shackle of its mechanism buried deep in its innards. No choice but to move forward.'
This was why Jess didn't like people. They babbled on about trivialities of life, expecting her to have all the time in the world to listen to their empty yearnings, their gossips and revelations.
'Life moves on because it must.'
Not-Gerry's gaze flicked up and met hers for the first time. 'You responded to the deeper current. Have we met?'
Jess was about to ask him to speak plainly, when Not-Gerry shimmered as if he were a projection and his frequency disrupted. She sat back in her seat and resisted the urge to rub her eyes. He seemed solid enough when he sat up straight. He watched her as if he might've wanted to study her innards.

'Are you going to offer me that job or not?'
A slow smile crept into his expression. She had thought he had seemed bright before, but now his whole face lit up with that smile. He was still in possession of all his teeth. 'I can offer you more than a mere job.'
'If by 'more' you mean food and supplies, then I accept your offer.' She held her head high, refusing to look aside, refusing to gnaw on the worry of what she might do once the month passed by and her supplies had whittled away.
'You won't need food and supplies where I could take you.'
She wasn't sure what to make of that.
He cocked his coppery head. 'You don't usually approach people like this, do you?' He didn't wait for her to confirm or deny. 'You approached me because you lost your job, because you missed your bus, because you caught your heel, because you saw me.'
Just like that, she remembered what her aunt used to say about Gerry. He knew things. Out of the blue, he'd come out with wild stories which ended up being true. He spoke strangely and his ways unsettled folk. A freak who didn't belong and wasn't wanted.
'You recognised me.' Not-Gerry crossed his arms over his square chest. 'It's been a long while since I've allowed anyone to recognise me.' He shimmered again. A ripple through his existence. This time Jess did rub her eyes. When she pulled her hands away, Not-Gerry was still there, watching her.
'You have a beautiful smile.'
She hadn't smiled. Not for ten years. Maybe more.
'You didn't lose your job because you were late. Because and because. You lost it because it was your last shackle.' He unfolded his arms, reached over, and tapped the clock sitting between them. It toppled onto its back and stopped ticking. The echo of its bells swept through Jess and fell silent.
She held her breath and stared at his outreached hand. He wanted her to take it. She grasped the edge of the table, afraid to let go.

Somehow she knew what he offered, though how she couldn't have said. 'You weren't here two days ago when I first looked into the window,' she said. 'You distracted me on purpose to make me lose my job.'
'A second ago.'
Another memory popped into her mind. A resurrection from another time. Of Cousin Gerry telling her a story during a rare visit, soon after her mother had died of a brain tumour. Jess had been ten and he'd been the same as always. He'd spoken of a traveller who could live between the ticks. With big eyes and a grand smile, he'd claimed this traveller could rearrange the ticks so the one after the next could go before and the one before could wait until tomorrow. He'd wanted her to think about it. And she had.

Because it was a wonderful fancy.
Because it carried her away to safe places where nothing ever went wrong.

Gerry was a traveller, the shimmer his vehicle. They could shimmer away, the city becoming dust in their wake, a half-remembered dream.

Or a new beginning.

Whatever she desired. She only had to take his hand.

But his tale had been a child's fancy and everything had kept going wrong.
Her grip on the table loosened. She swallowed. 'There are other shackles to keep us where we are,' she whispered.
Not-Gerry smiled. 'And I can break those shackles. If you'll allow me.'
He still offered his hand. So much possibility awaited her. So much hope. She knew without a doubt she'd be safe with him. She'd never go hungry again. She'd never be alone again. Because as much as she claimed she didn't like people, she loved them. And she needed them. As much as the world needed them.
She realised something else. She wouldn't have to fade away, unremembered, a speck of dust in a dying world. She could rediscover what she had lost. She could reconnect to the way the world should be, to the beauty of something as simple as joy. Or kindness. Or kinship.

This man offered her a different path to explore. A different future. A key so she could slip past the links of her chain-wire cage.
With a trembling grip, Jess took Gerry's hand. It was the first time since her mother had died that she'd been touched. He felt warm. Reassuring. Alive.
A smile broke out on Gerry's face. He dazzled like the sun before the fog of detachment choked the world.
Then they shimmered. Together.

And they were gone, but not diminished.

About The Author
Lynda Young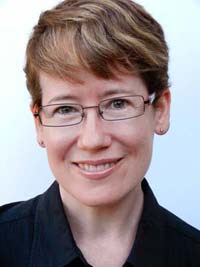 Lynda R Young is a writer, editor, game developer, 3D artist, graphic designer, photographer, gamer and so much more. She has a Christian daily devotional book out called Cling to God. She is currently working on a Young Adult Fantasy Adventure series of novels set on the High Seas. She lives in Brisbane with her sweetheart of a husband. Find her at <http://lyndaryoung.blogspot.com.au/>.