By Zena Shapter

'The fire is beautiful!' Aunt Joan shouts as our blacksmith and thatcher march her to the stake. Her brown woollen skirts swish as confidently as her stride. Her breath clouds in the morning air. 'The fire is bright! We welcome it!'
I turn away with a sob.
The devil really does have her soul.
Folk pass me carrying bundles of old thatch. They stink of musty roofs and mice dung.
'Your mother is waiting, Maggie!' Aunt Joan calls to me. 'It's time! Look!'
I wipe my gloves across the icy tracks of tears on my cheeks, then face her again.
Even as the blacksmith binds my aunt's wrists, and the thatcher balances his bundles around her feet, her bright blue eyes gaze at me as kindly as always, the weathered lines around them crinkling as she smiles. Since the mayor ordered my mother burnt last month, Aunt Joan is all I've had. Now she too seems determined to die. She promised to look after me, yet she raises her chin and chants her words again.
'Stop,' I mouth. 'Please.'
'You're next, Maggie!' she shouts instead.
'It's the devil himself!' cries the baker's wife, clawing at her heavy bosom before fainting into her husband's arms.

He manages to guide her away from a puddle of dark blood, trips on a headless rooster anyway and falls into a slew of bloodied cockerel flesh. His wife lands on top of him with a squelch.
Aunt Joan laughs, her cackle as crisp as the pale mist draping over the square. If only she'd stuck to selling herbal remedies and charms, as is the way with our family's women. What else did she think would happen, cutting the necks of half a dozen fowl and squeezing their blood across main street?

The mayor readjusts his satin scarf, then signals for the cleric to bury a lit candle in the thatch. It is too late for renunciation.
Flames catch. Smoke spirals.

Aunt Joan closes her eyes and inhales it like a long lost friend. 'Yes.' She opens her eyes. 'I see it! It's so beautiful! Delicious warmth! Maggie – come! Now!'
Folk around me step back, like I might at any moment obey her command and take them with me too.
The fire swells to flush her face. She merely grins. Tears coat my cheeks anew — to see her this delusional. She crouches into the growing roar of fire, snaps her burning bonds, then stands and thrusts a bright-scalded hand at me. 'She's one of us,' she declares, then wafts flames and smoke to swirl around her, laughing.
The crowd gasps.
The mayor looks me up and down, narrowing his eyes.
'Not me, no,' I whimper, shaking my head.

'Yes!' Aunt Joan cackles, then coughs and falls to her knees still grinning. Her hair catches fire and she disappears behind the flames.
My legs shake, barely holding me upright.

The cleric sidles up beside me, hands clasped behind his back. His breath coils around my neck like an adder up a tree. 'Are you a witch, Mistress Margaret?'

'No, sir. The schoolmaster, Master Jacobs,' I remind him, 'when he fell ill over Pentecost, he asked me to fetch him that wood garlic tonic. Ma had it ready for me.'
'And you did as she bid?'
'I did as Master Jacobs bid, sir. I had nothing to do with his death. Serving at his schoolhouse was too important to me.'
'More important than your soul?'
'Of course not.'
'And yet you act as the devil's assistant.' He straightens his shoulders; his cassock skims flatter over his paunch. 'The whole family is damned!' he proclaims to the mayor. 'Better we rid ourselves of all the devil's charms at once!'
Hands grip my arms and shove me forward. The crowd jeers to send me to hell, folk I've known my entire life, even the bakery boy who asked me to harvest dance.
'No!' I beg, digging my heels against the pull. 'Not me!'
Grips tighten, yank with greater strength than my legs can resist, closer and closer. The air shimmers with heat. Aunt Joan's blackened body lies still, crisping between the flames. The blacksmith reaches down and binds my ankles with rope. Someone ties my wrists behind my back.

'No, please no!' I twist and buck, but they tip me horizontal, swing me back and forth like a sack, then toss me into the fire.
I land on top of my aunt, smashing her burnt frame with a crunch. I close my eyes to cry out in pain. It's so bright.
It's also… not hot. I open my eyes. Honey flames dance like May Day ribbons drifting in a breeze. Smoke curls sweetly like fresh church incense. My skin tingles with the hope of an early summer, tickling like lanky seeded grasses leaning too close to the path.

'Maggie!'
I search through the flames. No village square. A beach. Sunkissed sand. Azure waves rippling to shore. My unharmed aunt under a tree with long-pointed leaves, taking off smouldering clothes.
'Feel the heat?' she calls to me. 'Delicious warmth! Now, where's your mother? Her message said we'd like it here.'
The rope around my wrists and ankles is so brittle now I snap it with ease. I stand to look around. 'It's so beautiful.'
Villagers gasp. Or a gust gently rustles through trees.
I step across now translucent flames. 'Where are we?'
'Someplace nice, sometime nice.' She gestures at a shack along the coast, strung with tiny coloured balls. A wooden sign with white swirly letters says 'Happy Hour — All Day!' A deep voice hums inside. Music trills, though there's no band. My aunt bobs her head with the rhythm and strips down to her underwear. Judging from the two women strolling gracefully towards us, it's the thing to do here.
I take off what's left of my burnt gloves, scarf and coat.
'I'm so sick of the cold now.' Aunt Joan stretches as languidly as a cat just waking up, then turns and sees my expression. 'Aw, don't worry, Maggie, you'll get used to it. Women like us, with our gifts, this is how we travel — the flames transport us, that's all. Got stuck in the last place, waiting until you were of age. Which do you prefer?'
'Which time or which place?'
'Ha, witch place!' She chuckles, plonking her hands on naked hips. 'That's where we are alright — a witch's place! Anywhere can be, until it's time to leave! Come on.' She gives me a hug, then guides me towards the shack. Glasses chink. The coloured balls start to glow.

About The Author
Zena Shapter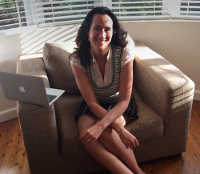 Zena Shapter writes from a castle in a flying city hidden by a thundercloud. Author of 'Towards White' (IFWG 2017) and co-author of 'Into Tordon' (MidnightSun 2016), she's won over a dozen national writing competitions — including the Australasian Horror Writers' Association Prize, a Ditmar Award, and the Glen Miles Short Story Prize. Her short stories have appeared in 'Midnight Echo', Hugo-nominated 'Sci Phi 
Journal', 'Antipodean SF' and Award-Winning Australian Writing (twice). She's a movie buff, traveller, diversity enthusiast, and story nerd. Find her online at <zenashapter.com>.