By Noel Osualdini

Father came, brandishing a box before him like a silver platter.
"Where did you get it?" asked Mother. There was no salt left in her tears: she'd cried it all away.
"I think it best the children don't hear, " said Father.
He placed the box on the table. There was a reddish mark at one corner, as though someone had dropped a tomato on it from a height. Lottie had never seen a tomato that red. Matty picked at a dried dribble of cheese at one end.
"Best not take it from the outside," Father said.
Matty poked a finger into his mouth and rolled his eyes, relishing the taste.
"Dumpster again? " Mother mouthed over the din of the TV, where a politician in an expensive suit was espousing the positives his government had brought: a job for most, education for all—or, at least, for all who would make use of a job or an education—a TV in every home.
"And no food for the table," added Father.
"We have food," said Lottie.
Mother and Father nodded, but the look they gave each other said: slimy, tasteless, unsalted food.
"Wish we could turn it off," said Mother, glancing at the TV.
"We could cover it with a blanket, " Lottie said, but Father replied that they'd know.
Somehow, they knew everything.
He smiled instead, opening the lid of the box, slowly, as though revealing a cache of gold, a rare gem, or perhaps the biggest, flattest diamond that might ever be found in a box so wide and flat. Inside were exactly four slices of pizza, imperfectly cut through, and a few crusts.
Mother wiped an eye with the back of a hand.
"Pizza for everyone," she said, trying to sound cheerful. Her shoulder twitched — the spasms had returned, but at least it was better than the cramps she'd been having.

"What about —" said Lottie, glancing back at the baby. Little Dora could hardly stand in her cot without falling over.
"Give her this," said Father, peeling a long, silvery morsel from his slice.
The politician on TV had been replaced with an advertisement for salt, at $260 a kilo.
"Ooh," said Lottie, "it looks like a little hairy fish."
Matty, who'd been poking holes into the cheese on his slice, took an anchovy and popped it into his mouth.
"I can taste it!" he said.
"Is this what the ocean tastes like?" asked Lottie.
"No," said Dad. "They're packed in salt to keep them good."
Mother's tears were tears of happiness now.
"This is so good I never want to finish it."
Father frowned for a minute. "I've been thinking about that," he said. "Jones upstairs hasn't got long... "
"You don't think he's been hoarding salt?"
"No," said Father. "The human body has its own salt. When Jones dies... "
The smile on Mother's face disappeared.
"You're not suggesting that we — that we eat him!"
Father nodded at the baby, who was trying to stand.
Matty threw up.

About The Author
Noel Osualdini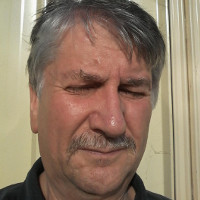 Noel Osualdini (pronounced Oswald-deeny) has been a television newsroom vtechnician, public servant, call centre operator and petrol station attendant.
He holds a degree in Media Studies and diploma in Professional Writing and Editing. He wrote non-fiction for ATO publications and was layout artist and occasional contributor to a TAFE college newspaper.
His short stories have appeared in anthologies and other formats in Australia, England, Canada and the USA. He lives with his partner Joanne, three teenage offspring and a toddler southeast of Melbourne.