By Eugen M. Bacon

LEAVES CRUMBLE UNDERFOOT. Ralph Cooper steps into the mouth of woodlands awash with starlight. He carries night with him. Darkness chases his path. An owl leaps from a branch with a fearsome cry.
Ralph pushes his way inwards. There is blood on his face, arms, bare legs and feet. No sound escapes his lips. Fear is non-existent. He shreds through forest tight with black trees, gray leaves. Shadows. Claws and toes slash at undergrowth. Slash. Slash.
Lightning cracks overhead.
No rain. No pain.
Slash. Slash. Reason is diminished. Buried.
Ralph staggers out of the woods and breaks into a quiet place. Here, he takes one weary step forward. His spirit is willing; his body fails. He falls, drained. Bathed in blood at the jaw of a new world.
He opens his eyes to a face full of light. Green eyes. Cascading hair.
She smiles.
'How are you?' she says.
'Rent money is dead money.'
'Are you in pain?'
'Elusive peace.'
'Do you understand why you are here?'
He lifts his head off the ground. 'The scallywag,' he says in a dry rasp.
His head falls. He is unconscious.
* * *
Something soft and warm drapes around his shoulders. He opens an eyelid to blinding light. A blanket rubs his chin. He shrugs it off. Tugs at his shadows to hold him. He cannot stop the shaking. His night fights the light of this world. The room blinks with darkness and then brightness. Darkness. Brightness. The world resists. Darkness. Brightness. Finally, spent, Ralph stops fighting the light. His fog wraps around him like a wrap. His fingers shake oddly. His mind is a mosaic. A cascade of rocks.
* * *
'You are in parallel reality,' a voice says. 'You have travelled between levels of consciousness. A portal of time.'
He blinks. Green eyes, a cascade of red hair swathes her cheeks. She is bending over him. He watches her without thought or fear. His fingers uncurl. Slowly, he reaches out. Touches the silk of her hair. Spreads his fingers, slides them to the white of her coat. The corners of his lips pull down. Fingers trace upwards to her face.
'Pretty,' he says.
'And so are you.' She strokes his face. 'In a complex way.'
He looks at her. She looks at him.
'I think I can help you,' she says. 'I want to.'
He gazes one last time at her exuberant face before his eyes close.
* * *
Cables. Sockets. Circuitry.
Peripherals clasp him. He lies horizontally in the belly of a capsule strewn with gadgets. Two chips grip either side of his head. One end of the capsule elevates. His feet lift upwards. His head lowers into a square of glass that swallows him. Wires plug into him.
'It won't take long,' a voice says in the distance.
'Dead money,' he mutters.
Light. Darkness. Light. Stillness. Tremor. A tomb. Buried.
Scallywag, he thinks. Elusive.
Beep. Beep. Beep.
His eyes are shut. He tries to move his limbs. They refuse instruction from his brain. He can't move. But he can see through the eyelids. He can see what she sees.
Information download. She surfs through his memories.
Coo…There is the child in him: fat legs. Moonface. Cobalt eyes. A tuft of honey hair stands in a natural Mohawk on his head.
Softness. Warmth. Music: his mother.
Now he is a toddler. Asleep. Swift breaths.
Older. Long hands, all knees.
Older. Small town: pub, general store, post office, petrol station. The last two are an extension of the pub.
There's Harriet. Lying by his side on a golden meadow mottled with violets. Legs entwined. Whispers. Giggles. Touch. He combs grass from ebony hair. Touch. Sun and chocolates on Harriet's lips. Flowers on her skin.
Beep. Beep. Beep.
His limbs jerk. The controller circuit network strains to hold him.
War. He sees war.
Marching. Running. Crawling. Swamp. Bog like black jelly. Pits. Caves. Field: abandoned. Dust: heat. Building: engulfed in fire. Tanker: rolling. People: screaming. Bullets: cracking past his head. Jungle. Jungle. Jungle. Explosion. Shouts. Bayonet: blood. Smoke: stench. Horizon: cloaked orange. Soldier: head blown off. Hospital: hysteria. Straitjacket: madness.
Beep. Beep. Beep.
He is roaming naked in the streets.
Clank! tins tied to his ankles.
A hoard of children yell behind him, tailing him as he mutters over and over: 'Rent money is dead money. Elusive peace. The scallywag. Pretty.'
Beep. Beep. Beep.
Keyboard. Command. A screen opens. Inoculation, it says. Memory buffer. New profile module. Installing permanent blocker, it says. War memory deleted. Insanity deleted. Monitoring information upload, it says.
Beep. Beep. Beep.
* * *
Cloud. Blackness. A burst of light. He is floating, floating, floating... He opens his eyes to a shaft of sun through the window.
Perfume. Purple magnolias, heart drops and white lilies stand in a vase half-filled with water. Sound fills the room. Two swallows sing on the ledge.
A stir on the left.
He turns his eyes.
Jade eyes. Cascading hair.
'How are you?' she says.
'Good. My head feels light. What happened?'
'Your fog of shadows has lifted.'
'What fog?'
'Tell me about Harriet.'
'Who are you?'
'Radiance,' she says. Cool fingers touch his arm. 'Tell me about the war.'
'What war?'
'I think the treatment has worked. Tell me your name.'
'Ralph. Cooper.'
'Ralph. Don't close your eyes. Look at me. Ralph.'
He looks at her.
'What are you thinking?'
'You are beautiful.'
'As are you.'
Ralph Cooper smiles. He is no longer entombed in a head full of shadows.
'Yes. Beautiful,' he says. 'In a complex kind of way. Now get me out of here.'

About The Author
Eugen M. Bacon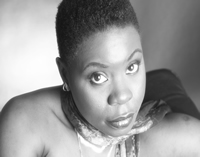 The artist sometimes known as Eugen Bacon is a non-android, full-blooded creature with two Masters Degrees and a Doctorate in Computing and Writing respectively. The said qualifications do not endear this artist to editors any more than other artists. With much grovelling, repeat submissions, threats and sometimes fierceness, the artist has managed to secure publications in literary, scholarly and speculative fiction journals or magazines worldwide. Her creative articles were nominated for the 2017 Aurealis Convenors Award For Excellence.