By Laurie Bell

Terrie sat in his cell. Terrie stared at the wall. Then for something different Terrie stared at the floor. After a while, he glanced up at the camera port in the corner. The red light burrowed into his brain. The suddenly icy steel floor bit into the skin of his bare feet, forcing him to pull them up under his body. He returned his gaze to the wall and counted twenty marks scratched by his chipped and bleeding fingernail.
Only twenty days.
He'd been sentenced to three years. Terrie's shaking fingers clutched at his oily hair. He pulled hard enough to feel his skin stretch. They'd promised to get him out, the two criminals he'd hired for the original heist. The one he'd been arrested for. Oh come on, Terrie. You planned it all. What did you expect? You hired them because they were good.
But they'd promised.
Hadn't they?
The last message he'd seen replayed in his mind like it had every day for the past twenty. We care — hold tight — we'll see you soon. Terrie pulled harder on his hair. Hard enough for the headache to surrender to worse pain. You fool! The woman's icy, cold stare appeared before his eyes. As did her magnificent figure.
The vision didn't bring warmth to his blood, only more chill to his already frozen body. The man's drawl, her partner or lover — Terrie had never worked it out — told him to quit staring. He blinked the woman away.
A rattle drew his attention to the door. A cell on a ship was no more or less secure than on land. Old fashioned bars, a tumbler lock — designed so that you couldn't escape. Codes and key cards could be hacked, but a manual lock needed a manual key, which meant you had to get in to get out.
Escape was simply impossible.
Terrie scowled. Instructor demoted to doorman, turned prisoner. His codes had let the criminals steal a fortune. That was why he'd been caught. It's why he was stuck here. Twenty days. Jesit!
The rattle came again, heralding another visit from the warden — or the head doc. They could demand answers all they liked, torture him for longer if it would make them feel better, but Terrie couldn't break. He knew nothing. The two criminals he'd hired told him zip about their escape plan or where they'd stashed their loot. Terrie's cut had been stolen by the government upon his sentencing.
Footsteps sounded in the corridor. Too fast, too light. Terrie climbed to his feet. What now?
A suited guard, hips and chest all wrong for a regular gatekeeper, appeared at his door. Blond hair wisped from the guard's cap. A crystal gaze locked onto his.
"How?" The word popped out of his mouth before he could stop it.
"Shhhhh." She stood before the lock and twisted a metal object inside. Terrie's eyes darted up, his gaze locked on the camera port. Its ever-present burning red light was off.
A dull thud echoed inside the door and the guard — she — the woman whose face he'd always remember, turned and strode away without further words.
Terrie stared at the empty corridor. Was she just another apparition of his bored mind? The door swung open on his push. Do I follow her? Is that what I'm supposed to do?
The corridor stood empty. Eerily so. At the secondary gate Terrie paused. A loud electronic beep preceded the slide of the heavy door. Terrie kept walking, heart thundering. If he were caught now, if this was a trap, they wouldn't just put him back in his cell, they'd kill him.
Another guard appeared. "This way, babe." That voice. Terrie didn't need to see his face to know who it was. Terrie raced to the man's side. The woman appeared on his right. Flanked by criminals dressed as officials, Terrie walked clear of the prison wing.
"Tell me who you are," Terrie whispered, wiping sweat from his eyes, desperate to know their names.
"Whoever you want us to be." The man's voice held a subtle laugh. Terrie's blood thrummed, excitement made his hands shake.
The man thrust a taser into Terrie's fingers, butt-first. "We've another job. A planet shield is in our way. Big score. Are you with us?"
Jesit. They'd come back for him. "Absolutely," Terrie said.

About The Author
Laurie Bell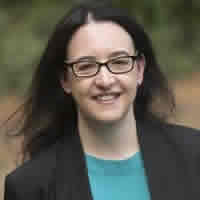 Laurie Bell lives in Melbourne, Australia. She was that girl you found with her nose always buried in a book. She has been writing ever since she was a little girl and first picked up a pen. From books to short stories, radio plays to snippets of ideas and reading them aloud to anyone who will listen.
She is the author of The Butterfly Stone (available now).
You can read more of her work on her blog Look for her on Facebook <www.facebook.com/WriterLaurieBell/> or Twitter: <@LaurienotLori>