By Deborah Sheldon
North Sea, calm and green, an English meadow
Lifts the ship on gentle swells, storm long gone.
For cod, sprat and herring, the deck hands throw
The trawling nets on their last bloody dawn.
North Sea, flat and harmless, bath for a child
Voices a note that sings through the marrow.
The men lose their heads, blood-quickened and wild,
Visions of women, sea nymphs Calypso.
The crew cannot swim but leaps overboard,
And each mate is held in unyielding grip.
The women are gilled, and some of the horde
Slice through the nets to free fish from the ship.
Dragged to the seabed, the drowning souls pray;
Unanchored, unmanned, the ship drifts away.

About the Author
Deborah Sheldon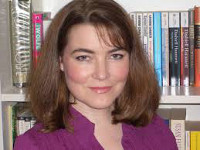 Deborah Sheldon is an award-winning author from Melbourne, Australia. She writes short stories, novellas and novels across the darker spectrum. Some of her titles include the horror novels Body Farm Z, Contrition, and Devil Dragon; the horror novella Thylacines; the romance-suspense novella The Long Shot; and the collections Figments and Fragments: Dark Stories, and the award-winning Perfect Little Stitches and Other Stories (Australian Shadows "Best Collected Work 2017"). Her short fiction has appeared in Quadrant, Island, Aurealis, Midnight Echo, Breach, AntipodeanSF and many other well-respected magazines. Her fiction has been shortlisted for numerous Australian Shadows Awards and Aurealis Awards, long-listed for a Bram Stoker Award, and included in various "best of" anthologies. Other credits include TV scripts, feature articles, non-fiction books, stage plays, and award-winning medical writing. Visit her at <deborahsheldon.wordpress.com>