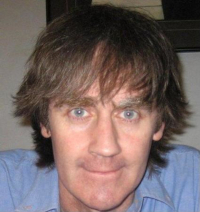 Luke J. Kendall failed to drown on five separate occasions on Sydney's northern beaches. For 30 years he worked in the IT R&D field, very happily married to an adventurous mediaeval scholar 22 years his senior, until her death in December 2014.
He likes really long form fiction — like Jim Butcher's Dresden Files, or C. E. Murphy's urban shaman series. His own, The Leeth Dossier, is set in our world in a 'mixtopian' near future a few decades after magic's return. Character-driven by its female lead — who is innocent, loyal, and deadly — it blends hard science with fantasy, psychological horror, humour, and action.
He has self-published Wild Thing (2015), Harsh Lessons (2016), Shadow Hunt (2017), and Violent Causes (2019), and is working on Lost Girl (2020?). His author web site is <AtoeInTheOceanOfBooks.com>
Dangerous January was written from a writing prompt in Neil Gaiman's Master Class.