By J.M. Williams

Tyal struggled to break free from the sticky bonds of the dense web. The strands were not loose like ropes, but rather tight and vibrant like violin strings. They stuck to his limbs and body with a thick and messy adhesive. Tyal had long since stopped thinking about what had brought him to this desperate point; he needed to focus all his mental acuity on the only important issue — escape.
He tried wrenching his arms free, rocking his body with each movement to try to maximise his momentum. If only he could free his right arm, then he could draw his sword and chop these miserable webs into tiny pieces. Freed from the bonds he would stand a fight at least. But even the force of his rage was not enough to pull his body loose. The more he struggled, the more the lines of webbing stuck to his limbs, wrapping him up like so many skinny white pythons.
The forest was painted in a dark, shadowy green. The trees were wide and crooked, like the arthritic fingers of some old witch. Tyal had traveled and hunted in this forest many times before, but he never ventured this deep — no one did. Here the forest withered, as if afflicted by some arcane ailment. His dumb inquisitiveness had brought him out this far, where the gentle creatures feared to go. Dark forms squawked at each other in the shadows, but Tyal mostly feared about the inevitable silence that would herald the approach of his eight-legged hosts.
Tyal had heard the legends of giant spiders in the forest. Up until now, he had thought them just that: legends. He had never seen one, nor signs of one, nor had anyone else he knew. But now the myth had become threateningly real.
Then he heard it, or failed to hear it. The silence he had dreaded since the start of his captivity filled the forest like a void, empty of everything, even hope. Gradually, Tyal could hear the patter of little footsteps approaching him. He shook with all his might, but it was no use; he was doomed. His thoughts drifted to his family and village, who would now suffer from the lack of one of their only hunters during a time of scarcity. All because of a selfish need to satisfy his curiosity.
Shadowy figures moved in on Tyal from all sides. A horrid, multi-eyed head peeked out from behind a tree. The tapping of sharp, little feet became a marching drum. Tyal looked down at his sheathed sword, as a tear of hopelessness slipped down his chin. He steeled himself and turned to defy his doom.
A hairy shadow brushed against his head. The massive bulge turned around, until an arachnid face was staring at him, inches from his nose, stink and jelly dripping from its sharp fangs. More hairy bodies filled in the gaps on either side, and he felt vibrations from above and behind, surrounding him. It was over; he was shackled, like a man headed to the gallows. The beast in front opened its thick, furry mandibles wide to strike.
"Good show, my boy," it said in a genteel voice. "Put up quite a struggle, didn't you?"
Tyal stared in wide-eyed amazement, too stunned to respond.
"We'd like to thank you for assisting us in testing our new web formula," the last word rolled off the spider's...mouth, lacking certainty. "It is lovely that you volunteered to get yourself stuck. The webs seem to have done their job quite well, if I might say so myself. What do you think?"
The spider looked at him for a moment, waiting for a response that never came.
"Right, the giant spider thing. Silly of me. Spooked you a bit, have we? Well, unfortunately we do not have anything with which to compensate you, besides our gratitude. But grateful we are indeed. Your work has given Phil a few keen ideas on where to go next. Bob here will see to it that you are released and led safely out of the testing area. Good day."
With that, the mass of spiders returned to the shadows. The only one left was Bob, a smaller and redder arachnid than the rest. Bob took a breath and spat a mass of spider-mucus on Tyal's arm. Then it spat again, and again. By the time Tyal made it to the ground, he was covered in the ooze. The spider pushed him with its head, urging him to start walking in the indicated direction. Tyal complied.
"Why am I always stuck with the cleaning up..." Tyal heard Bob mumble as the spider marched off to join the others.
Tyal stumbled his way home. His hunt was spoiled, but at least he would return with a story to tell.

About The Author
J.M. Williams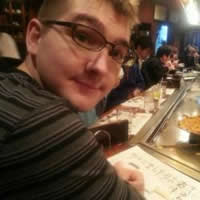 J.M. Williams has been writing fantasy stories since elementary school, though they are markedly less grotesque now than in the time of his youth. He currently lives in South Korea, with his wife and 10 cats, working as a teacher and reserve military paralegal. But he is trying to turn his writing into a profession. He has been published in many short fiction publications, including Flash Fiction Magazine, Empyreome Magazine and New Realm, and is currently working on a fantasy series for Fiction Vortex that will release in the coming months. He can be found on Facebook and Wordpress.