By Daniel de Cullá

The Orient Express is a luxury keeping our attention on the syntax of rails from Paris to Stamboul.
Boarding the train in Paris: Agatha Christie, Drakula, James Bond and Graham Greene, in conjunction with our kisses, which rejoice and sing to the compass of chacacha, the chacacha of train: How pretty it is to travel when we go entrain!
Well, it seems that love with its sweetness-swing produces more heat than the chacacha of train...
From our compartment window glass reflects a shining landscape of stones and wheat, and:
Agatha Christie whispers to James Bond, Dracula drools over Graham Greene, and a ghost travels the train with flowers in hand.
In the long corridor of train a young woman kisses Bartolo's flute — a flute with a single hole — and I say to my beloved girl:
I have the Pan' flute also. We are made for each other.
Meanwhile, the soft train slides, its iron wheels on iron, and enters a station where film cartels advertise with coloured letters:
"Murderer on the Orient Express", "From Russia with Love", "Drakula" and "Stamboul Train".
Disembarking in Varna, we hum Taylor Swift's song "This Love".

About The Author
Daniel de Cullá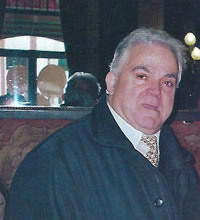 Daniel de Culla ,is a writer, poet, and photographer. He is also a member of the Spanish Writers Association, Earthly Writers International Caucus, Poets of the World, (IA) International Authors, Surrealism Art, and others. Director of Gallo Tricolor Review, and Robespierre Review, he has participated in Festivals of Poetry, and Theater in Madrid, Burgos, Berlin, Minden, Hannover and Genève .He has exposed in many galleries from Madrid, Burgos, London, and Amsterdam. He is moving between North Hollywood, Madrid and Burgos, Spain. His address is in Burgos, just now.
He has more than 70 published books.