By Ariel Braago

Reen waits just like everybody else. It's the first big new thing in ages — and ages means like ages and ages. Eh can hardly restrain ehself. Everyone's excited, even eh's family. Eh is sure there are thousands of them scattered throughout the universe. But who cares anyway? Eh doesn't.
Eh is excited and excited is a rare and valuable commodity, or so Reen used to say when eh was old, but now Reen is young again eh's values have changed, of course. Everybody knew that would happen.
Reen is so excited eh almost wants to have sex, which is weird because at the moment eh is neuter and it's too late to change before the big event.
If eh missed this event, they, meaning everyone else, would be busy attached to the big emotional while eh was being reshaped, and eh would miss the whole thing and get it second hand. Bummer, because eh would never hear the end of it.
'You missed it. You were in stasis. Dumb schmuck.'
Eh's friends could be cruel in a persistent kind of way. Eh would be hearing it for the rest of the eternal or longer.
They had found eh on an ice planet frozen, for a million years, a female; who all the people at first called by different names like, "First Mother" or, "The Old One". Eventually, eh had come to be known as Eve for some obscure reason — an ancient name connected to a very old mythological text from a backwater planet called Earth, somewhere in the galaxy.
'Eh was found near that place,' says Mil.
'Earth?' says Reen.
'The birth planet,' says Mil, 'The one where we started. Our kind.'
'You need to rewind your brain,' says Reen, 'It's beginning to unravel. Earth? You need to grow up. Really. You're a believer. People have been looking ever since those stories became popular, and my publisher is really surprised those stories are still selling.'
Lifting one of eh's upper lips and tilting the head, Mil says, 'Publisher? You must be joking — and you're telling me to grow up?'
'An automaton not flesh and blood. How old do you think I am?'
'It's starting, look look.'
Reen looks and listens to the transmission. The anchor's voice is shaky, excited and hard to understand especially when the broadcaster begins to shout, 'This has to be big. There is actually a biological human on board. It's going to be so fantastic. Thousands of billions of lives will link.'
Integrating into a full immersion bio-connect Reen selects total interface with the pilot, chief scientist, and mission crew. All happen to be the same one-and-only-biological, crazy-enough live person on board. The pilot's emotions, sensory perceptions and thoughts take over Reen's mind, and eh is the pilot.
Mil does the same. Eh is the pilot.
'Capcom this is Genesis,' everyone says, 'The mech's have isolated the environment. I'm going in.'
'You're not going to believe this,' says the pilot. Nobody does.
The pilot's blood pressure rises and ecstatic awe floods eh's mind as thousands of billions see a woman with long hair flowing over her naked body. The temperature is a few degrees above absolute zero. She is frozen, solid, and pregnant.
Suddenly, Reen and Mil find themselves back in their own bodies.
A message flashes on everybody's mind, 'We are experiencing difficulties beyond our control. Do not be alarmed, we control the vertical, we control the horizontal.'
Within moments, the show comes back. A retro broadcast depicts someone dressed as a reporter wearing a suit and a dumb look, microphone and all, standing in front of a complex that obviously doesn't have Eve in it.
'Eve has been brought back to conscious and the resuscitate is complete, but eh went straight into labour — bearing the first human to be born in the primitive way in aeons. We witness a process that has been forgotten in the dark hidden of infinite data.
'The thinkers decide it is dangerous to interface with Eve so we'll just have to watch it the old fashioned way as spectators.'
That seems appropriate.
So they watch. The show goes on and on and on. And as the moaning and groaning keeps on, the mystique surrounding Eve wanes. The enchantress with the long auburn hair turns into a grotesque moaning creature accompanied by a confused, scared and vacant stare — yet this calls to every human alive, and the number of watchers increases into the trillions.
When the child finally arrives out of the gaping one-eye passage covered in slime and blood, connected by a survival cord and looking like a ghoul in wrinkled skin, Reen throws up. With a surprised look on eh's face, memories call softly and take her on a journey to a long forgotten past where eh's parents wait.
She sees them again. Bitter sweet pain forces tears from Reen's eyes, and she cries — for they died when the world was old and the new was a mere beginning.

About The Author
Ariel Braago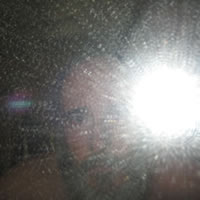 Yeh I'm a writer. I am a writer. How in the mysteries did that happen? Oh, that's right, I fell in love with a woman who is a writer and got infected.
I remember, in grade six, Brother Seymour asked us all to write a story. Boy, did I write a story. I loved it. When it came my turn to read out my story: 'He did this and then he did that and then that happened.'
Half way through my excited reading of my fantastically great story, Brother Seymour told me to sit down. What happened?
I sat down like I'd been slapped in the face.
Then… this kid called Felix Vergona started reading his story, and guess what, did Brother Seymour tell him to sit down? No, you could hear a pin drop.
Everyone, and I mean everyone, looked at Felix as he read: 'There's a rocket ship, it roars and reaches for the sky, great flames push the ship higher and higher. It begins to shake.'
'That's the end of the story,' said Felix, 'because I've written my five hundred words.'
Everyone, and I mean everyone, went 'Oh noo, no, oh, what happens next please?'
That was over fifty years ago and I still can't write as well as Felix. Am I dejected? Yes. Are there days when I wonder if I've gone mad? Yes. But I'm a writer damn it, and every now and then something I've written touches my soul. I hope it touches yours.