By Andrew Kozma

And then there was the day the doors stopped working.
Though, technically, they still worked. They opened. They closed. When you passed under the head jamb, you entered a new place. It separated your home from the outside, your office from the hallway, your hallway from the bathroom.
The problem was that now the place changed every time you opened the door. Sometimes it changed as you walked through the door. As a favour, my friend Billy came over with a pizza — because even when the world is fucked you still need to eat.
I opened the door when he knocked, and laughed out loud at his goofy smile, holding the pizza up above him like it was Excalibur, presenting it to me with his hands outstretched.
"Your pizza, my lord, as you comman — " he said, right before the bland sidewalk and carefully trimmed lawn outside became an arctic flat howling with an unsettling wind. In the distance giant red orbs floated above the dark horizon.
Billy was gone. His arm, still presenting the pizza, flopped to the ground.
Joe picked up the pizza, lifted the lid, then snarled. "Now the cheese is all bunched up on one side."
I almost expected him to kick poor Billy's arm like it was a dog, the dog Billy and I'd rescued from Joe's house a few years ago, the dog Billy had adopted and named Coffee. I wondered what would happen to Coffee, now that Billy had lost an arm and was probably dead or dying. A pool of blood spread from the stump end of the arm, and when it spilled over the door's threshold, it froze into an icy scab.
Joe shoved a piece of steaming pizza into my hands. "You've got to eat, bro." The slice he'd given me was mostly cheeseless. We weren't, and would never be, bros.
I'd come over to return Joe's things. He and Thuy had broken up last week and she never wanted to see him again, but didn't want to just throw his things away since Joe was unpredictable. He might egg her place. Cut a hole in the wall and seal a dead fish inside. Fill the gas tank of her Subaru with red Jell-O, her least favorite food in existence.
And so I brought his things over, because I worked with Joe, and because he was utterly, completely selfish. As a relatively unattractive man, I was pretty much invisible to him—no threat at all.
"Have another slice, man, you need to bulk up."
This piece of pizza was completely cheeseless. It looked like a third-degree burn. I ate it because I didn't know when I'd eat again. Joe's fridge was full of beer and wine coolers ("for the ladies"). If this was the end of the world, if society was about to break down into the survival of the fittest, if cannibalism was about to come back into fashion, if there'd never be a re-run of Lassie again, I did not want to spend my last days on Earth with Joe.
I left him in the front room, his mouth stuffed full of pizza, his eyes fixed on the still corpse of Billy's arm. Like the roaches we all thought would survive a nuclear apocalypse, Joe would thrive in this new world.
The doors didn't work, but maybe the windows weren't affected. Through the bedroom window, the sky was the drab grey of a weather that didn't even care enough to storm. In that light, the green of the grass looked toxic, each blade as crisp as a hypodermic needle.
Billy popped into view, his skin surprisingly flush for missing an arm and at least an arm's worth of blood. He knocked on the window and I opened it.
"Thank god," he said, panting. His eyes were feverish. He was clearly in shock. "I am so fucking hungry."
He reached through the window and the suburban landscape became a jungle of flames, tiny flaming animals scattering through the brush, the air so hot and clear each flame looked like a jewel come to life.
Billy's arm fell to the ground with a wet thud.
"You want the last piece?" Joe asked from the other room. "Good fucking crust, dude."
Maybe if I dove through the window, I'd make it through alive and in one piece.
Billy's arm spasmed upwards, as though trying to give me a high five. Because Billy was a good friend, I gave it to him.

About The Author
Andrew Kozma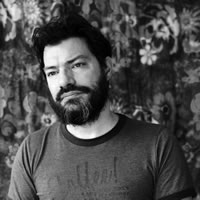 Andrew Kozma's fiction has been published in Albedo One, Drabblecast, Fantasy Scroll and Daily Science Fiction. His book of poems, City of Regret (Zone 3 Press, 2007), won the Zone 3 First Book Award.