By Rob Riel

Johannes owns what may be the world's last unopened 1 kg packet of Minties. He can't be absolutely certain, of course. Untold billions were produced, beginning in 1922, and while they don't stay fresh forever, they remain edible for quite some time. Decades, at least. But production stopped in January 2021, just one year before the centenary of the patenting of Minties, when Nestlé/Allens files for bankruptcy. Efforts to continue production overseas are thwarted by a campaign of lawsuits organised and financed by the Global Common Market Mk IV, alleging that Minties inflict damage to the dental health of consumers (primarily a tendency to pull out caps and fillings).
By March 2021, a single Mintie in edible condition is worth 12 Euros online. Three months later, the asking price has tripled. Johannes now finds himself in possession of what may well be the world's last privately owned and unopened 1 kg bag of Minties. Speculators bombard him with extravagant proposals to monetize his windfall.
Unsure of how best to proceed, Johannes accepts an offer from a TV production company to film the opening and consumption of what is purportedly the world's last bag of Minties after a series of hour-long primetime competitions. These events involve culinary arts, home renovations, innovative methods of raising funds for charity, exposure of cruelty to animals, and minimisation of carbon dioxide emissions. Events are filmed primarily at Johannes' own home, over a period of not less than six months, according to his contract.
The TV series lasts four weeks, owing in part to poor ratings, and in part to Johannes' divorce.
Soon thereafter, the last 1 kg bag of Minties is sent on a world tour. It disappears the Republic of Crimea, where it is stolen from the Director's parked car, despite substantial protection from the KGB. Rumour has it that the last bag of Minties is now in the possession of Vladimir Putin.

About The Author
Rob Riel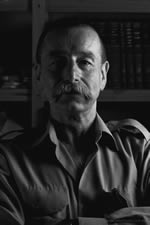 Rob Riel is easily bored. He can't seem to hold onto the same job for more than a few years. He has earned a crust as an electronics technician, officer in the US Navy, metallurgical engineer, assessor in disability services, university lecturer in creative writing, electron microscopist, failure analyst, mentor in HSC English, founder and publisher of Picaro Press, and writer of both poetry and short fiction. He still has a Nuclear Weapons Handling Certificate, but it's expired, dammit. Rob is a serial judge for the Aurealis Awards. He lives in Cardiff, NSW, and is at present is building a new deck for his beloved partner Judy.