By Willow Schafer

John grunted and muttered, "Not here." Jamison Kelly wasn't in the primary control room at his usual station, although the picture of him and his new wife was tacked to the wall nearby. The brown-haired and freckled Jamison — an electrical engineer — glared back at John from the image. He chuckled. That picture was Jamison's most prized possession. Once, the printout had simply fallen to the deck and the man had almost panicked. The newlywed was having trouble closing the immense gap separating Earth and the space station.
John figured Jamison was most likely with rest of the crew in the cafeteria, and it was almost mealtime, so he set off in that direction — floating along the station's long, claustrophobic halls.
John stopped. A strange noise came from the beyond the hull wall, and seemed to be following him — a deep clawing or knocking.
That could not be. The only thing out there was deep space.
John shook his head. The noise did not stop. He shivered and floated on.
In the cafeteria, everything was fine. No noise, but no Jamison Kelly.
"Where's Jamison?" John asked the captain.
"He was making repairs outside. Heller was monitoring him. They should be here soon. Don't worry."
"That explains it," said John.
Once most of the crew had finished eating, Jamison had still not returned, so the captain sent John to make sure Heller was doing his job correctly.
On the way, the ship remained silent. John heard a distant knocking again as he entered the secondary control room. Strange.
Heller was there, strapped into a chair, snoring, as video feeds played out on computer monitors.
John gave a sharp whistle.
Heller jolted in his seat.
"How's Jamison doing out there?" John asked.
Heller pressed a series of buttons, and the computer screen displayed a variety of views of the ship until it showed Jamison. He was pulling himself back to the nearest airlock using his safety connection. The transmitter pinned to Heller's collar crackled, and Jamison's voice emerged. "Hey, Heller. I'm done out here. You mind opening that airlock for me?"
Heller's finger paused over the airlock button, and ... a man with damp brown hair and freckles floated into the secondary control room.
"Hey John," Jamison Kelly said. "You guys didn't eat without me, did you? I was just in the shower and —" Jamison's voice trailed off. "What's wrong?"
Dread seeped into John's torso, colder than the vacuum of space.
Hesitantly, Jamison stepped forward.
John stumbled back. Heller followed. The transmitter crackled again. "Heller?" said Jamison from outside the airlock. "You heard me, right? You can let me in now."
John watched the colour drain from Jamison's face as he saw himself on-screen outside the station. "What's going on?" Jamison whispered.
"Who are you?" John said. "You're making repairs..."
Jamison gasped and balled his hands. "I — I don't know what's going on. I was just taking a shower, no one told me there were repairs needed."
Heller stepped back to the control board and cycled through some cameras until he found a view from inside the airlock that looked past the sealed window to where they could see Jamison's tinted helmet on the other side.
John heard an anxious, distant knocking. "Guys," the radio crackled. "What's going on in there? I'm running low on oxygen."
John squeezed his eyes shut. Everything felt wrong. The knocking grew more anxious with every tap.
Heller opened a station-wide intercom channel. "Captain and security detail to the secondary control room," he said. Heller's finger hovered over the airlock control.
"Don't let him in," said Jamison. "It's not me, I don't know what it is, but you can't let it in."
The captain and three security crew ran into the secondary control room. Heller's transmitter crackled. "What are you doing? You need to let me in, please. Don't listen to whoever's in there. Let me in, you have to, please."
"Don't," said the captain.
John wondered whether he looked as bewildered as the rest of the crew.
The desperate knocking continued.
"But it's Jamison," said Heller.
"I'm Jamison," shouted Jamison.
"LET ME IN!" Jamison shouted from outside the space station. "I'M REAL, LET ME IN —"
Heller lunged for the button.
John tackled him, yelling, "We don't know what's out there!"
Heller bashed John's head against a control panel, leaving him disoriented for a moment. He leant against the bulkhead, head spinning.
Heller righted himself before the panel.
"Stand down, Heller." said the captain. "I'm detaching that thing from the ship."
Heller screamed. One of the security team tasered him. Heller crumpled.
Outside, on-screen, Jamison had tears running down his face, pleading and begging and banging on the airlock.
Inside, Jamison looked sick.
The captain signalled to John and Jamison. "Follow me," he said. "We're going to jettison that thing."
The knocking, shouting, and crying continued in the background.
As they floated their way to the primary control room, Jamison muttered over and over, "Don't let him in. You can't, I'm real, I am...."
Soon, the captain's left hand hovered over the release lever that would sever outsider's connection to the ship, and his right hand over a thruster control to move the station.
"You have to," Jamison said, "It's not real, whatever it is. Please."
The captain pulled the lever and pushed the thruster control. Screams echoed through the ship. On screen, a figure in a spacesuit flailed into space.
Jamison Kelly, completely omitted, no return.
The ship grew quiet again.
John watched with the others as the now-silent figure floated farther into the dark, its visor catching the light of the faraway sun.
It was over.
John took heavy breaths, exhausted, not sure what to think. Eventually, he noticed the picture of Jamison's wife floating near the deck, accidentally detached from its resting place.
"Jamison," John muttered, gesturing at the picture. Jamison loved that picture. Some days he even carried it around with him.
Jamison blinked. He picked up the image, glanced at it, crumpled it into a ball, and threw it along the corridor. He fixed his gaze on John, shrugged indifferently, and said, "So?"

About The Author
Willow Schafer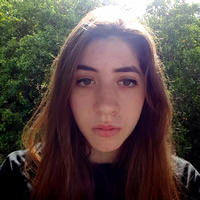 Willow Schafer is a full-time honour student pursuing classical archaeology while following her other passions of writing and art which she's had since she was a child. She has spent much of her time volunteering at Sarasota Country Library and attending her local art center in Southwest Florida. Some of her published work can be found in the Elektraphrog Literary and Arts magazine.