By Nicholas Sheppard

Please do not reply to this e-mail, it said, This e-mail address is not monitored.
Well, that's a refreshing attitude, I thought! If it's not the government or one of their three-to-four letter agencies, it's advertisers, giant corporations, scammers, or that nosy bastard Jim down the road, all wanting to monitor my e-mail, and probably phone calls and text messages too. They'd probably put closed-circuit television in every room in my house if they could.
So I wrote back. Hello, how are you, nice to meet a kindred soul, that sort of thing.
I waited. It took only a few minutes. You were told not to reply, it said.
I don't take instructions from machines, I told it. I have an independent mind, after all, that's why those three-to-four letter agencies want to know so much about me. I explained all of this in an e-mail.
Do you take instructions from signs reading 'Danger – High Voltage'?
So I told my new friend about the time when, after a few beers, Joe and Malcolm and Cedric and I scaled one of those giant metal electricity pylons. Joe lost his grip and fell as we clambered over the barbed wire at the lowest level of the pylon, and lay there whining while the rest of us drank a celebratory beer a few levels up. Malcolm wanted to climb all the way to the electricity wires — he said he wouldn't be electrocuted if he only touched one of them — but chickened out when it turned out he'd have to climb hand-over-hand in order to descend from the horizontal beam to the wires below it.
I think I can make you a media star.
Of course I was interested. It's nice being a clown with your mates and all, but to be a real influencer you have to have a media following. I asked what I had to do.
You can have an audience of millions, if you distribute the mail that I send you.
Boy, was it a lot of mail! Newsletters for macrame groups in Russia, invitations to submit articles to the Journal of Cosmopolitan Humanists, updates from the Polynesian Christian Science Daily, advertisements for snake-handlers, I mean, who'd want to talk to all of these people!
So I've changed my address to do-not-reply.

About The Author
Nicholas Sheppard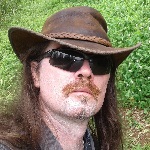 Nicholas Sheppard is an Australian software engineer and academic, currently teaching in Singapore. He has published numerous scientific articles in venues with very serious names, several non-fiction pieces for a less serious mediaeval re-creation group, and occasional pieces of fiction in AntipodeanSF.