By Matthew Harrison

Here in the Electoral Registration Office (Policy Section), you got some interesting assignments, Kevin mused. Like this one. He read the header in his Inbox — 'Application from a small city'.
"Here, look at this!" he called to fellow analyst Sabina, although with the holo in front of them there was hardly need to call. Sabina was intrigued too, and together they flipped through the summary parts of the application, noting the terse, 'Trash it!' from the scowling icon of Marty, their boss.
It was an interesting application. Almost too interesting. Kevin felt hairs rise on the back of his neck — he had never seen anything like this. "What-what the heck?" he managed at last.
"A city wants the vote, that's all," Sabina retorted.
"But a city! Voting! How can a city vote? It's crazy. People vote."
"People — and aliens," Sabina reminded him. She was the practical one, he the theorist. Together they made a good team, Marty had said once in an unguarded moment.
"Yes, but they're human aliens... I mean, humanoid. Mostly, anyway." Kevin sat down on his desk, trying to get to grips with it. "How would a city fit into a voting booth?"
Then he realised how silly this sounded in the age of interstellar travel and electronic voting. "What I mean," he struggled to express his disbelief, "is, how can a city even be an entity? Cities are people. Cities are us!"
Sabina scrolled down the holographic papers. She read aloud, "'People live in symbiosis with their city, as the myriad bacteria in the human gut live in symbiosis with their host. In either case, the host is a distinct being and deserves the vote.'"
"We're bacteria?!"
"I suppose we are — to a city," said Sabina. She had a reproving expression that reminded Kevin of his mother. Continuing, she said, "If you think about it, it's not so unreasonable. Everything in the city — the drains, the pavements, the parks, the lampposts — is intelligent now, armies of things talking to one another. And when you add in the thousands or millions of human beings interacting with the things and with one another, you're pretty much at the complexity level of the human mind."
Kevin felt himself drowning in reasonableness. He made a final effort. "What about purpose? A city is just a collection of interactions. Mindless. Not going anywhere." Panting, he had control of himself. They had to fight this nonsense.
"No purpose?" Sandra looked at him with sad motherly irony. "Don't forget — it made the application."
Kevin gawped, and scrolled down. The application was signed simply, 'The City of Leeds. Pride of the North.' There was no other name. "You-you mean, it conceived and submitted this application itself?"
For answer, Sabina clicked on the e-signature. Secured files opened up, revealing a landscape view of the city and then zooming in on an imposing neo-classical town hall. There was nothing more. No human face appeared.
"This is serious, Sabina!" Kevin tried to convey the urgency. "It's not just voting. There's the whole spectrum of human rights — entity rights, I suppose they'll be now. And gender. And — "
A 'ding' from the Inbox interrupted them. Sabina quickly looked. "You're not going to like this," she said quietly.
When Kevin managed to focus, he read, 'Request for face-to-face meeting.' A virtual meeting room had been booked...

About The Author
Matthew Harrison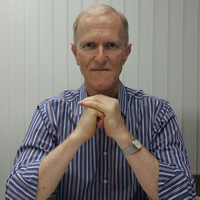 Matthew Harrison lives in Hong Kong, and whether because of that or some other reason entirely his writing has veered from non-fiction to literary and he is currently reliving a boyhood passion for science fiction. He has published numerous SF short stories and is building up to longer pieces as he learns more about the universe. Matthew is married with two children but no pets as there is no space for these in Hong Kong. Find out more about Matthew here: <www.matthewharrison.hk>