By Robin Hillard

The hardest part of my sentence is leaving the kids. While I am being stripped and searched, they're asking their father about my empty chair. When they are older will they doubt my guilt?
I had an alibi. I was at my neighbour's house when the bank was robbed, but what was her word, against a printout of from the robocop, that identified my DNA?
"Computers don't lie," said the judge, when my lawyer tried to talk about past incidents of misplaced samples, keyboard mistakes and program bugs.
And I was in the system.
Some months before, when a driver left a service station without paying for fuel, a blob of mud on my licence plate changed the one to a seven and gave me the number of the guilty car.
"A simple mistake," the officer said, after pulling me up, and watching me wipe off the mud, but he could not reprogram the scanner. So I had to go to court.
"People can always appeal," the minister had said, when he ordered the police-car scanners and do-gooders complained of the number of false arrests.
Yes, I could appeal. But over the following weeks I took days off work, only to have, repeatedly, the case postponed.
"You could skip the hearing," said a helpful clerk, "just enter a guilty plea. For a minor case like yours, a first offence, you'd get a small fine and a bond. That's cheaper than paying a lawyer. The officer who made the arrest has left the force, so it's your word against the scan."
That made financial sense. I did the maths and paid a fine, equivalent to one week's wage, and had a twelve-month good behaviour bond.
I'd done the wrong maths.
20% error. One false arrest in five. And I was in the system.
The robocops were cheaper than regular police so politicians extended their role to cover more serious crimes. Like robbery. All a human officer had to do was arrest the auto-identified.
One false arrest in five. And the odds were higher if the DNA, like mine, was already on file.
"Witnesses can lie," said the judge after my neighbour testified. Obviously, with rising crime, she wanted to make an example of me.
So it is prison, while at home my children grow to adulthood. Will they believe their mother is a thief?

About The Author
Robin Hillard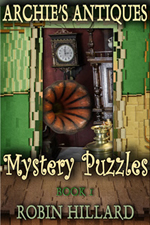 Robin has taught in Australia, England and Canada and now lives in Toowoomba, also known as the 'Garden City' of Queensland, Australia. It is well served with antique shops and these provide the inspiration for the problems that bedevil the customers and staff of Archies Antiques, a series of short mysteries which originally appeared in the ezine Bonzer and were later collected into two ebooks by Cyberworld Publishing. Toowoomba also provided a setting for her cosy mystery novel Ridgeway Murder. Robin enjoys exploring alternative worlds, but sometimes gets so carried away with research she doesn't get around to writing the story
Find out more at Robin's author page at Cyberworld: <http://www.cyberworldpublishing.com/Robin_Hillard_author.htm>