By Pascal Inard

Captain Hadoki checked the graviton generator, the most important piece of equipment on the Starship Collingsworth, the first manned ship powered by dark energy, named after the quantum physicist who had discovered how to harness dark energy for interstellar travel.
If the graviton generator failed, the ship would be ripped apart in less than a microsecond by the energy that battles against gravity to expand the universe. Contrary to previous belief, it was not evenly distributed throughout the universe — currents of concentrated dark energy flowed between stars and between galaxies, and the ship's sails were designed to catch those powerful currents.
He looked at the deck crew, waiting for him to give the order to deploy the sails. They all knew what was at stake and they had signed up knowingly. They would either go down in history as heroes pioneering a new age of exploration, or unfortunate victims of an experiment that would, hopefully, work the next time.
Hadoki glanced at the monitor and said, "Checklist completed. Sails ready to be unfurled." He took deep breaths to steady his nerves, not wanting his crew to see that he was as nervous as they were.
"Is everybody ready?"
The crew nodded in unison.
His hand steady, he pressed the button. A swooshing sound filled the ship, and Hadoki felt every cell in his body vibrate. The status updates displayed on the monitor reassured him. The dark energy current was blowing into the sails, but the numbers were streaming too quickly to read the velocity. The lights in the bridge started to glow fiercely, blinding him. As Hadoki closed his eyes, he lost consciousness. When he woke up, he saw on the monitor that the ship had reached the ZRG3086 stellar system where signals coming from Planet Félicie had been detected, suggesting the presence of intelligent life. The checklist had run and confirmed all systems operational.
He undid his buckle and let out a huge breath. He looked at his arms and his legs and stroked his face. Dark energy hadn't leaked into the ship and expanded Hadoki's limbs like Tom of Ground Control had joked at the cafeteria before they left. They had made it, in one unadulterated piece.
Hadoki asked Pavel, the navigator, to set course for Planet Félicie.
"This calls for a celebration," said Hadoki. He opened a bottle of champagne and started serving the crew.
"Fred, aren't you having any?"
The exobiologist replied, "I don't want to drink any alcohol until Doctor Felding has run a full battery of tests to check that my body hasn't been affected by the dark energy."
"Are you feeling okay?"
"I'm not sure. My heart is beating faster and I've got a funny taste in my mouth."
"What about you, Pavel?"
"No, I don't want to risk it. It's bad luck to have a drink with a person who is more than ten years older than you in a month with thirty-one days, except on a leap year."
Hadoki blinked and said, "Oh, I didn't know."
"Be careful, if you have more than three sips of that glass, a disaster will strike the family of the person who picked the grapes," said Pavel.
Hadoki saw Yolanda, the chief engineer, typing furiously. "Relax, Yolanda. You can type your report later."
"It's not my report, Captain; I just had a brilliant idea for a novel. I have to write it now before I lose it."
Hadoki went to his cabin, leaving his 2IC in charge. He was about to ask the computer to bring up the profiles of Yolanda, Pavel and Fred, when every word that he'd read on them came back to him in a flash. The onslaught of information made his head spin, and he closed his eyes. Yolanda had realised early in her life that she couldn't make a living from her writing, Pavel was brought up in a superstitious family but didn't see himself as an irrational person, and Fred had admitted to being slightly hypochondriac. Hadoki had never read his own profile, but knew that his memory had been considered an asset for the expedition. Above-average, but not to the point of recalling files word for word. It was as though a tiny amount of dark energy had leaked in — not enough to cause physical damage but somehow enough to expand the crew's strengths and flaws.
Hadoki sent a message to the Engineering team that the graviton generator needed some fine-tuning. His crew's augmented personality traits would certainly take getting used to, and he should probably review the entire crew's files, but there was plenty of time for that.
He looked at his glass of champagne and wondered if the dark energy leak would increase the effects of alcohol on his body.
Enrique Comeinha burst into the room. According to Collingsworth, who had overruled Hadoki's objection to taking someone with bipolar disorder on the journey, Enrique was one of the most brilliant linguists in the world. It was vital to have someone of his calibre on board to communicate with the aliens that could be present on Planet Félicie, and as long as he had his daily injection of Olanzapine he was as gentle and well-behaved as a lamb.
Enrique had always looked at Hadoki with angry eyes, as if he knew that he had tried to stop him joining the crew, but this time his face was filled with fury.
Hadoki did not have time to get up and defend himself. Enrique had a fire extinguisher in his hand, and just before it crashed on Hadoki's head, he thought about how he would be remembered — the first victim of dark energy.

About The Author
Pascal Inard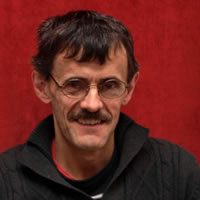 Pascal Inard writes novels, short stories and non-fiction books, mostly in English, but sometimes in French. He lives a creative life in Cheltenham, a suburb of Melbourne in Australia with his illustrator and crafter wife Isabella and their three children. When he's not writing or photographing, he manages IT projects for an Australian bank.
Pascal Inard is the author of "The Memory Snatcher", a science-fiction mystery about a police inspector and a quantum physicist who join forces to stop a memory thief from paralysing the world, and "Web of Destinies", a time travel mystery about a doctor who inherits a mysterious typewriter that can change the past, and is confronted with a secret agent who wants to use it to change history and a monk who wants to stop him. "Pushing up the digits", his collection of short stories on the digital afterlife is now available free in all major ebook retailers (except amazon where it sells for 99 cents).
His writing has been published in a number of anthologies and magazines. View his bibliography at <http://pascalinard.blogspot.com.au/p/blog-page.html>
You can connect with Pascal Inard on facebook <http://www.facebook.com/Pascal.Inard.Writer>