David Brin, Existence, Orbit, NOVEMBER 2012, 688 PAGES, SCIENCE FICTION
Review by Nuke.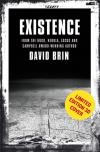 Think it's a simple thing to work out how and why extraterrestrial civilisations would try to make contact others in this wide old cosmos?
Think again. Send that radio signal? Look for radio signals? Sure. That's a start. But there is so much more to consider, including our own cultural, evolutionary, and memetic development.
In "Existence", author David Brin, no stranger to writing award-winning science fiction, tackles the questions. All of them. There is no crystal stone unturned.
This is the SF novel of the year. If you read no other SF, this is the one to cram into your mind.
But don't just read this novel for the ideas. Brin writes with panache, and infuses it with a biting, yet positive sarcasm. His characters are alive, and nuanced, and are involved in the complexities of the society in which they live.
Ignore the kitsch 3D cover. Open the pages and read those words.
Nuke