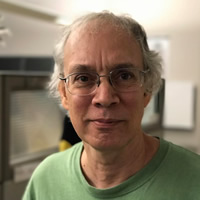 Brian Biswas lives in Chapel Hill, North Carolina, USA with his wife and an ever-changing assortment of animals. He has published over fifty short stories both in the U.S. and internationally. His story "A Betrayal" was included in the speculative fiction anthology The Irreal Reader and nominated for a Pushcart Prize. "The Last Photon" was selected Web Short Story of the Day by fictiondaily.org.
Brian's most recent publications are in Perihelion Science Fiction, Cafe Irreal, and The Story Shack. He is listed in the International Writers and Authors Who's Who, Marquis Who's Who, and the Internet Speculative Fiction Database.
This story can be read in two ways. One, a straightforward narration of events (the aliens come down and spirit our narrator away). Two, the onset of a mental illness.
You can read more of Brian's work at his website, www.brianbiswas.com.
Or follow him on twitter: @brianbiswas