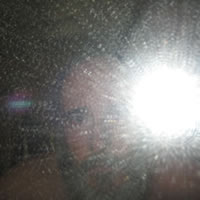 Yeh I'm a writer. I am a writer. How in the mysteries did that happen? Oh, that's right, I fell in love with a woman who is a writer and got infected.
I remember, in grade six, Brother Seymour asked us all to write a story. Boy, did I write a story. I loved it. When it came my turn to read out my story: 'He did this and then he did that and then that happened.'
Half way through my excited reading of my fantastically great story, Brother Seymour told me to sit down. What happened?
I sat down like I'd been slapped in the face.
Then… this kid called Felix Vergona started reading his story, and guess what, did Brother Seymour tell him to sit down? No, you could hear a pin drop.
Everyone, and I mean everyone, looked at Felix as he read: 'There's a rocket ship, it roars and reaches for the sky, great flames push the ship higher and higher. It begins to shake.'
'That's the end of the story,' said Felix, 'because I've written my five hundred words.'
Everyone, and I mean everyone, went 'Oh noo, no, oh, what happens next please?'
That was over fifty years ago and I still can't write as well as Felix. Am I dejected? Yes. Are there days when I wonder if I've gone mad? Yes. But I'm a writer damn it, and every now and then something I've written touches my soul. I hope it touches yours.